MRC Sticks To Trump's Script, Blames Bidens For Ukraine Scandal
Topic: Media Research Center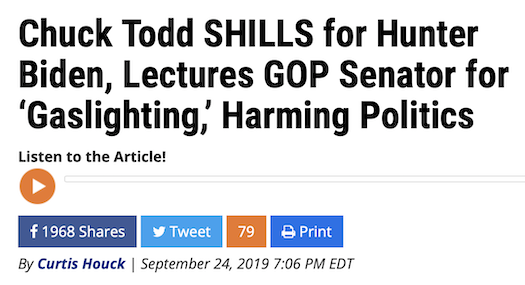 The Media Research Center knows who the real wrongdoers are regarding President Trump's phone call to the president of Ukraine insisting that he investigate Hunter Biden for the benefit of Trump's re-election campaign ... and it is Hunter Biden and Joe Biden. The MRC did its bnest in the early days of the Ukraine scandal to follow the Trump White House's marching orders and make it about the Bidens instead of Trump.
Curtis Houck got upset that the mostly right-wing reporters pushing the idea of Biden wrongdoing in Ukraine were chasing a conspiracy theory, complaing that one commentator "relied on — what else — anonymous sources to tell her that there's nothing to worry about because Biden's intentions of having the Ukrainian prosecutor axed or have the U.S. withhold aide from the country was "because they felt like he wasn't doing his job" even though that same prosecutor had been investigating the energy company Hunter worked for." But Houck is pushing a conspiracy theory too. In fact, the Ukrainian prosecutor in question was fired -- at the request of not only then-VP Biden but also the European diplomatic community and reformers inside Ukraine -- because he was not investigating corruption, including at the energy company Hunter worked for.
Tim Graham rushed to the defense of an anti-Biden reporter who got snapped at by Biden for pestering him about the non-scandal: "Shortly after noon on Saturday at the Polk County Steak Fry in Iowa, Fox News reporter Peter Doocy asked a mild, Brit Hume-esque question to Joe Biden and drew a hostile response, as if Doocy were yelling like Jim Acosta." Graham then huffed that "Doocy wasn't at all like Acosta, and still the other journalists don't show him support," but he failed to acknowledge that Fox News has a pro-Trump, anti-Biden bias. This was followed by Nicholas Fondacaro complaining that other media coverage of the encounter "seemed to come at the behest of former Vice President Joe Biden" about Biden's "directions to the press" -- never mind that the MRC continually issues directions to the press. Like his boss Graham, Fondacaro doesn't address the issue of Fox News' political bias.
Graham returned to whine that CNN's Brian Stelter "only talked about how Biden fans were delighted with the finger-pointing at the Fox journalist. After all the raging about reporters being insulted by powerful leaders, this reporter getting yelled at is a magic moment?" Again, Graham failed to acknowledge Fox News' bias, though he was quick to portray Stelter as biased by serving up "the Liberal Twitter take."
In yet another post, Graham tried for whataboutism when another commentator likened the alleged Biden scandal to birtherism: "Somehow this B-word does not apply to the Russian collusion conspiracies that Adam Schiff pushed, but Robert Mueller never found." Remember, the MRC couldn't be bothered to get worked up about Obama birtherism, not authoritatively denouncing it until it was used against Ted Cruz.
Mark Finkelstein complained that the Biden thing was still not a scandal:
Okay, so Hunter Biden was peddling influence to a Ukrainian company at the rate of $50,000 a month. And the only influence he could possibly have been peddling was that of his father, who at the time was the sitting Vice-President of the United States. But hey, why should that be a problem for Joe Biden?

That was Alisyn Camerota's apparent logic on CNN this morning.

[...]

Camerota would never try to claim that it's not Donald Trump's problem that Donald Trump Jr. met with Russians at Trump Tower. That's the level of brilliance she's displaying today.
Perhaps that's because Donald Jr. was more intimately involved with his father's political campaign than Hunter ever was with his father's political career.
Houck returned to huff that NBC's Chuck Todd "emotionally lashed out at Senator John Kennedy (R-LA) as a gaslighter doing harm to American politics for daring to ask questions about the Bidens," putting "SHILLS" in all-caps in the headline and going on to rant: "So for Chuck Todd, the children of Democrats can do important, noble work in countries while their parents set foreign policy, but the First Family could be corrupt. So journalists asking questions during the summer was fine, but now it's not okay. Got it." With all that sneering bile, it appears the Houck was the one who was getting emotional.
Posted by Terry K. at 9:46 PM EDT