WND Goes Retro, Brings Back Vince Foster Conspiracy Theories
Topic: WorldNetDaily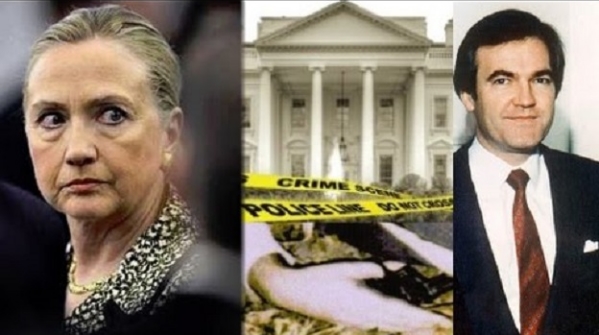 WorldNetDaily signaled that it was going to revive fake Clinton scandals to try and take down Hillary Clinton. It's now chosen one of the fakest of them all to re-litigate: the death of Vince Foster.
Leo Hohmann dramatically writes in a Feb. 28 WND article:
It's been 23 years since Deputy White House Counsel Vincent Foster was found dead in a Virginia park, setting off one of the biggest controversies of the Clinton administration.

Foster, a close friend and former law partner of Hillary Clinton's, was discovered on July 20, 1993, lying in Fort Marcy Park with a fatal gunshot wound.

Two investigations, the first led by Robert Fiske and the second by Kenneth Starr, concluded Foster suffered a single, self-inflicted wound. A simple suicide. Case closed.

But newly discovered evidence unearthed from boxes stored deep in the National Archives lend credence to theories about foul play and cover-up that have been hinted at by at least three books and countless articles.
Actually there were more than two investigations. As Starr's investigation points out, there were two congressional inquiries that also concluded Foster committed suicide.
The "newly discovered evidence" Hohmann is going on about is "a two-page letter of resignation and a 31-page memo both written by Starr's lead prosecutor, Miguel Rodriguez." Actually, it's not all that new; Rodriguez's resignation letter has been floating around on the Internet since at least 2009, and the memo has been around since 2013.
So if it was really the "smoking-gun information" Hohmann claims it is, somebody other that Clinton-hater conspiracy sites would have picked it up long before this. Instead, it reeks of desperation (and, of course, the Clinton derangement that helped build WND).
Curiously, Hohmann didn't mention one interesting bit of gossip about Rodriguez that might very well discredit him in WND's eyes: It's rumored that he is now a transgender woman named Michelle. (And we know how much WND hates transgenders.) We haven't been able to independently verify this, so we're categorizing it as rumor for now.
If Hohmann knows this, he's in denial; his article states that "WND reached out to Miguel Rodriguez, who is now a U.S. attorney in Sacramento, California, but the calls were not returned."
Hohmann also quotes Patrick Knowlton, a claimed witness to events at Fort Marcy Park prior to the discovery of Foster's body, repeating his claims of a cover-up and that he "also reported in the appendix to Starr's report about repeated acts of harassment and "intimidation" by what he believes were agents of the U.S. government. Up to 25 'well-dressed men' approached him on the streets of Washington, glaring at him and pulling on their coat sleeves. He said these strange encounters were witnessed by several others including his girlfriend, his sister, a reporter and his attorney."
Hohmann didn't mention that Knowlton sued all of those "well-dressed men" -- unidentified, of course -- who purportedly intimidated him. As USA Today reported in a story on the Supreme Court refusing to take up the dismissal of the lawsuit, "A federal judge dismissed the lawsuit in September 1999, saying the FBI agent who questioned Knowlton about the car accurately reported that Knowlton believed the car was not the same as Foster's car. The judge also said Knowlton did not show there was any agreement to interfere with his testimony or that the 26 other people even knew each other."
So this is the best WND can come up with after all these years? Sheesh.
Posted by Terry K. at 12:53 AM EST