The Truth About The MRC's 'The Truth About Media'
Topic: Media Research Center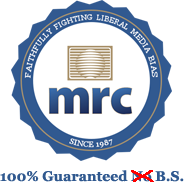 As part of its year-end fundraising drive, the Media Research Center has launched a website called "The Truth About Media." At first glance, it looks objective and informative, discussing how people consume news.
Once we hit the subhead "Fact: The Media Distort the Truth," however, the MRC is back to its old, partisan ways:
According to a Pew study, 82 percent of Americans agree that there is at least some bias in news coverage—and they agree it is more of a liberal bias than conservative.

That is why the Media Research Center exists—to make sure that TRUTH is reported and that the media's overwhelmingly liberal bias is neutralized.

[...]

Someone has to stand up to this leftist bias to make sure it is countered, exposed, and neutralized!

The MRC then rages against George Soros:
Since 2003, anti-American billionaire George Soros has spent more than $52 million funding media properties, and he has direct ties to more than 30 news outlets—including The New York Times, The Washington Post, the Associated Press, CNN, and ABC.

In keeping with his hard-left socialist vision for America, Soros goes after this the best way he knows how—through accessing and controlling the "news" media.

And if that weren't enough, George Soros has now accepted a position on the National Finance Council of the Ready for Hillary Super PAC, a group paving the way for a 2016 presidential run for the former first lady.

If the MRC doesn't expose Soros and neutralize these efforts, who knows where we'll be!
In fact, as we've documented, the money Soros donates to various journalistic efforts pales in comparison to the millions of dollars from right-wing billionaires and foundations that prop up much of the conservative media. In fact, many of those outlets would be out of business if they were subjected to the same free-market forces conservatives normally champion; indeed, even right-wing billionaires get tired of flushing never-ending amounts of cash down a money pit, which explains the newly reduced scale of operations like Human Events and the Washington Examiner.
The website then explains "the MRC difference":
We can stop the liberal bias and censorship and shred the media's credibility by educating millions of Americans about our indisputable, scientific research proving that the liberal media are water carriers for the Left's agenda.
The MRC's research is "scientific" and "indisputable"? Puh-leeze. We've amply documented how the MRC's so-called research falls far short of scientific standards and, thus, is far from "indisputable."Heck, it wasn't until this year that the MRC even bothered to start performing the basic scientific research method of documenting its methodology for its "special reports."
The actual truth about the media is much different from the MRC's ideologically driven narrative. The truth about the MRC is that it really doesn't care about the media -- only defeating its ideological enemies.
Posted by Terry K. at 6:09 PM EST