MRC's Graham Still Upset Media Wanted to See Romney's Tax Returns
Topic: NewsBusters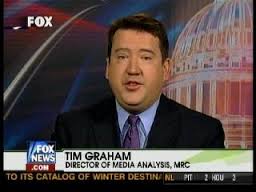 Tim Graham writes in a Dec. 22 NewsBusters post:
It might be easy to forget, but ultraliberal Rep. Alan Grayson (D-Fla) is one of those dreaded "greedheads" who deal in millions of dollars of stocks. A story on the front of The Washington Post business section on Sunday reports Grayson "got burned twice by 'stock loan' schemes that have cost him nearly $50 million."

Dina El Boghdady reports Grayson is ranked 21st in the House for wealth, with a net worth of "at least $16.7 million, in part due to the value of his stock portfolio." Grayson lost about $18 million in transactions with Virginia businessman William Dean Chapman, who was just sentenced to 12 years in prison after pleading guilty to defrauding Grayson and 121 others. The Post didn't seem to rifle through any of Grayson's recent tax returns, like they wanted to do to Mitt Romney.
Graham seems to have missed the part where Romney was running for president while Grayson wasn't.
Also: Grayson is an "ultraliberal"? Then again, to the right-wingers and Heatherers at the MRC, anyone who isn't as far right as they are must be, by definition "ultraliberal."
Posted by Terry K. at 4:14 PM EST
Updated: Tuesday, December 24, 2013 10:16 PM EST