NewsBusters' Sheffield Defends Fox Host Over 'White Santa' Remark
Topic: NewsBusters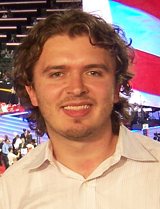 We've documented how NewsBusters' Matthew Sheffield tries to pass himself off as a new-media guru despite offering little more than the same tired bashing of the "liberal media" peddled by his Media Research Center contemporaries.
Sheffield does this again, kicking off his defense of Fox News' Megyn Kelly for insisting that Santa Claus and Jesus were were white by engaging in more lame media-bashing:
Liberals often love to say that conservatives cannot take a joke but the truth is that both left and right sometimes are lacking in the humor department. That's especially true of the cottage industry that's sprung up devoted to finding any tiny little thing to bash Fox News, one of the handful of national media outlets that don't lean left.

The very existence of Fox News appears to be psychologically damaging to some people, which is why the left-leaning websites that cater to them love jumping on any possible thing as a way of providing emotional validation. The Fox haters are up in arms today about a cheeky discussion that took place on last night's "Kelly File" program in which a mock debate was held about the moral propriety of portraying Santa Claus as a white man, a proposition raised by an essay pubished Dec.10 at Slate.
Sheffield goes on to dismissed the Slate as, "like so many Slate articles, nothing more than clickbait" and Kelly comment merely "a funny quip very much in line with many a parent's reassurances to doubting children on the very serious question of the Christmastime epistemology."

Sheffield parenthetically added: "[Slate writer Aisha] Harris's second article is misleadingly headlined as 'What Fox News doesn't understand about Santa Claus' even though her piece consists solely of a response to a single segment on a program on FNC which is editorially autonomous."
First, attributing one host's opinions or the alleged slant of a single segment to an entire network is something NewsBusters frequently does. Take these recent headlines, for instance:
Those all refer to a single segment, not the views of the entire network.
Second, Sheffield's insistence that Kelly's show is "editorially autonomous" differs not only with how NewsBusters and the MRC treat the"liberal media" outlets they target (as demonstrated above), it also diverges from reality. Despite Kelly's claim to be a "straight-news anchor," the guest list on her Fox News is more conservative than that of fellow Fox host and unabashed conservative Sean Hannnity.
When Kelly doubled down on her remarks, Sheffield was there to cheer her on and that Kelly "had a message" for her "haters" to "Lighten up and learn to realize what satire is."
Yes, the organization that finds no humor in Stephen Colbert's satire and treats other satirical content as grim reality wants liberals to "realize what satire is."
This is what the right wing has to offer as a new-media guru, folks.
Posted by Terry K. at 9:57 PM EST