NewsBusted: The Pierre File, Catholic Edition
NewsBusters' Dave Pierre is overly desperate to downplay any media mention of child sex abuse scandals in the Catholic Church, while offering little more than lip service to its victims.
By Terry Krepel
Posted 9/11/2013
---
Dave Pierre runs a website called TheMediaReport.com, which seeks to whitewash child sex abuse scandals in the Catholic Church. While he graciously concedes that "The topic of child sex abuse is at once both revolting and heartbreaking," he insists that stories on the scandal in the media "begin to lack any semblance of context, proportion, or balance – the very standards of good journalism. Instead, many of the stories now recounted in the media are simply retreads of stories of abuse from many decades earlier often filled with exaggeration, sensationalism, and hysteria. The truth has been lost somewhere."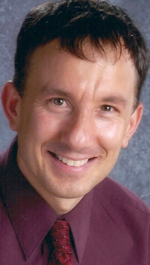 Dave Pierre
Many of Pierre's posts at NewsBusters are on this subject. But rather than coming off as a fair watchdog, he stretches to defend the Catholic Church while attacking its critics.

Pierre used a January 2011 NewsBusters post to screech about how the media is ignoring what is essentially a friend-of-the-court brief filed in a court case regarding sexual abuse of children by priests in the Los Angeles Catholic Diocese by "veteran attorney Donald H. Steier" in which he asserts that "about ONE-HALF of the claims made in the Clergy Cases were either entirely false or so greatly exaggerated that the truth would not have supported a prosecutable claim for childhood sexual abuse" (capital letters are his)."

Pierre makes a big deal out of how Steier submitted his brief "under penalty of perjury" and attacked an advocacy group for the victims of the priests.

But Pierre omits a pertinent fact: As Examiner.com's Kay Ebeling pointed out, Steier has served as a defense attorney for "accused priests all over southern California," which makes him hardly the unbiased, independent observer Pierre suggests he is. Indeed, the Los Angeles Diocese has paid Steier in the past.

As part of his representation of accused priests, Steier has opposed the release of internal church documents that would shed light on the abuse allegations -- which would seem to cast further doubt on the veracity of his claims. How can Steier credibly claim that some abuse allegations are false or exaggerated when he himself has opposed the release of documents that would back him up?

Pierre went on to hilariously attack a response to Steier's filing by the victim-advocacy group SNAP (Survivors Network of those Abused by Priests), asserting that there is a "glaring absence from SNAP's statement. The organization does not refute nor deny any of the specific claims made by Steier. It simply labels them as 'outrageous' and 'hurtful.' That is hardly a blow to the explosive declaration aired by the veteran attorney." (Italics his.)

Pierre then mocked SNAP's call for church officials to reveal how much money it has paid Steier. But at no point does Pierre deny that Steier was paid by the church, which raises the possibility that the brief Steier filed was also done on the church's payroll.
Throwing Jews under the bus
In an April 2011 post, Pierre decreed that it is forbidden to mention Catholic priest abuse scandals during Lent: "As Christians observe Holy Week and the anticipation of Easter, PBS' Frontline program will air another investigation into abuse by clergy of the Catholic Church," Pierre wrote. He did not offer a time when airing the show would be more appropriate -- perhaps because, to him, there isn't one. He he went on to complain that the abuse being profiled is "from decades ago" and, besides, abuse of minors by Catholic priests is old news: "Frontline already aired a lengthy episode on the Catholic abuse narrative not that long ago."
Then, of course, Pierre raised the specter of anti-Catholic bias, even as he describes why the priest-abuse story is a compelling one, and tried to throw Jews under the bus in an absurd attempt at misdirection:
Indeed, Catholic priests terribly abused minors, and leaders failed to stop the awful harm. That is an undeniable truth. Nothing justifies such a wretched evil.

We must continue to demand justice and compassion for victims of clergy abuse. There is no doubt that the stories that will be heard on the program will be heart-wrenching and angering to hear.

However, media outlets like PBS have surpassed the point where they are merely reporting a story. They are using the scandals as a tool to single out and further tarnish the Church.

When will PBS' Frontline investigate the massive child abuse and cover-ups happening today -- not decades ago -- in our nation's public schools? How about the recent cover-ups of abuse by Orthodox rabbis in New York City?

Or is only the Catholic Church a target?
Pierre didn't mention the obvious reason: Catholicism is the single largest religious group in the United States at around 25 percent of the population, while Orthodox Judaism is much smaller and largely confined to the New York metropolitan area.
Nevertheless, Pierre threw Jews under the bus again in a December 2011 post attacking the New York Times for allegedly ignoring how "85 accused child predators have been arrested in Brooklyn's Orthodox Jewish community," while "The Times has never been shy about trumpeting cases involving allegations of abuse by Catholic priests decades ago."
Paying off abusive priests "fast and economical"
In a June 2012 NewsBusters post, Pierre complained that the New York Times reported on then-Milwaukee archbishop Timothy Dolan's practice of paying abusive priests to leave the priesthood:
One frequent demand from Catholic Church abuse victims is that abusive clerics be laicized or removed from the priesthood as expeditiously and quickly as possible.

So if the Archdiocese of Milwaukee discovered a fast and economical way to make that happen, wouldn't that be a good thing for both victims and the Church? Not according to the New York Times' Laurie Goodstein.

In her latest Catholic Church-obsessed piece, Goodstein takes issue with the fact that New York's Cardinal Timothy Dolan, when he was the Archbishop of Milwaukee a while back, approved a number of $20,000 settlements to rid the Church of abusive priests in a more time-efficient and expeditious manner – without long, drawn-out canonical or civil proceedings.

Goodstein characterizes these settlements as "payoffs to sexually abusive priests" in an attempt to somehow besmirch Cardinal Dolan. In fact, these were settlement payments designed to save the Church and everyone involved the legal expenses and distraction of engaging in the protracted proceedings necessary to rid the Church of abusive priests.
But shouldn't these abusive priests have faced the criminal justice system for committing illegal acts? Shouldn't justice have been placed before expediency? Pierre makes no mention of what, if anything, the Milwaukee diocese under Dolan did for the victims of those priests.
Pierre doesn't answer those thorny ethical questions. He's too busy trying to district from those thorny ethical questions by attacking others. First up is SNAP, which again gets bashed for highlighting the issue; Pierre called SNAP "anti-Catholic" -- as if being sexually abused by a priest doesn't cause a person to question their faith -- and attacked its leader, David Clohessy, for purportedly having "unseemly contacts with contingency lawyers in Missouri."
Then, Pierre went into distraction mode again by citing sexual abuse scandals in schools:
Just a few months ago, the Los Angeles Unified School District paid $40,000 to a third-grade teacher accused of committing numerous lewd acts on children in exchange for him not appealing his firing.

Then there was the teacher in New York City who was accused of ogling eighth-grade girls and collected a whopping $100,049-a-year salary without setting foot in a classroom for over a decade.

In fact, such settlements happen in the education profession all the time.
Just because others do it doesn't make it right. If those school districts jumped off a bridge, does that mean the Catholic Church should too? That's the juvenile argument Pierre is making here. But shouldn't the church be acting in a more moral manner than a secular organization?
Pierre also failed to mention that, unlike a significant number of priests, the Los Angeles teacher whose case he cites did face criminal charges.
Still shielding the church
Pierre was at it again in an Aug. 12 NewsBusters post proclaiming that former Milwaukee Archbishop (and current cardinal and head of the New York City diocese) was vindicated over a judge's ruling that the creation of a cemetery trust fund that effectively shielded more than $50 million from exposure to lawsuits from victims of abusive priests was permitted. Pierre insists that "Dolan created the trust for the explicit purpose of protecting donors' donations and having them used as they were intended – for the care of over 100 Catholic cemeteries in the archdiocese."

Pierre didn't mention that Dolan specifically stated that he created the trust fund because "I foresee an improved protection of these funds from any legal claim and liability," which would seem to belie any vindication Pierre is claiming. Just because Dolan's creation of the fund is legally permitted doesn't mean that shielding the funds from abuse lawsuits wasn't a motivation for creating it.

Pierre then turned his venom once again on Clohessy, calling him "nasty" and a "bigot."

Perhaps if the church Pierre so zealously defends hadn't turned such a blind eye to abuse by its priests for so long, Clohessy -- who himself was abused by a priest -- wouldn't have to be so "nasty."