MRC's Double Standard on Taking A Joke
Topic: Media Research Center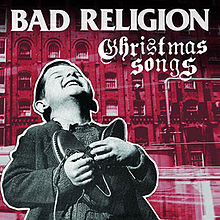 NewsBusters' Matthew Sheffield has decided that liberals can't take a joke:
Just as cigars sometimes can indeed be just cigars, so too can jokes. Yet this is a point which seems to be lost on several left-wing media writers who have taken great umbrage at the mockery that has been had at the expense of one Ethan Krupp, better known as "PajamaBoy."
Unfortunately for Sheffield, he wrote his post the day before his boss, Brent Bozell, spent an entire column raging at a punk band named Bad Religion for releasing a Christmas album:
But there's another kind of Christmas denial: the kind that simply stomps on Christianity as ridiculous and kicks over the nativity set. Take the atheist punk band Bad Religion and its new record of Christmas songs they found "hilarious" to record.

Co-founder Brett Gurewitz told LA Weekly, "Clearly, it's a satire. We were rolling on the floor a lot of the time ... it felt like a Monty Python skit to me."

Greg Graffin, the other co-founder, is a part-time professor of biology and author of the book "Anarchy Evolution: Faith, Science, and Bad Religion in a World Without God." This is Graffin in a nutshell: "Our faith should be expressed in working toward a better planet for our children and not the selfish, juvenile hope for a better afterlife for ourselves. I don't think anyone is going to Hell, because it only exists in the minds of people who wish ill will on others."

Bad Religion's "Christmas Songs" album is concluded by a song called "American Jesus," which rips on America and Christianity. The lyrics start with an apparent conservative Christian's take: "I feel sorry for the earth's population/'Cause so few live in the U.S.A./At least the foreigners can copy our morality/They can visit but they cannot stay."
Earth to Bozell: A band named Bad Religion recorded a Christmas album. And the MRC is accusing liberals of not being able to take a joke?
But Bozell wasn't done:
Since this band believes churches are a blight on society, it's unsurprising that 20 percent of their sales proceeds will go to suing the Catholic Church through the "Survivors Network of those Abused by Priests," a group as despicable as it is dishonest. Only a group like SNAP could accept money from a band called Bad Religion.
It's "despicable" to hold the Catholic Church accountable for the predatory behavior of its priests? Really? Of course, the MRC does employ as a blogger someone who whitewashes and downplays abuse by Catholic priests at every opportunity.
Posted by Terry K. at 1:44 PM EST
Updated: Friday, December 20, 2013 1:46 PM EST