WND's D.J. Dolce Descends Into Birther Nonsense
Topic: WorldNetDaily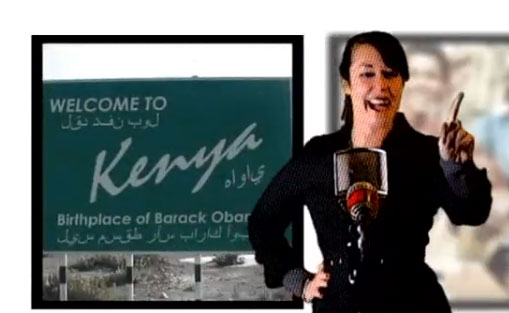 A little bit of our soul dies every time we watch D.J. Dolce's alleged comedy video at WorldNetDaily, so we try to limit our exposure as much as possible. Still, we try to check in every once in a while to see if Mrs. Molotov Mitchell's homophobia and Obama-hate have approached anything that could even remotely be considered "funny." (They haven't.)
But we checked in on Dolce's latest video, and darn if she wasn't spewing birther crap as part of some weird rant about the U.S. buying Russian helicopters for the "Muslim army" in Afghanistan. Dolce baselessly claimed that the U.S. wouldn't buy the helicopters from Boeing because "Boeing doesn't take crap from unions."
Dolce added: "Then again, we started it when we imported a president from Kenya instead of buying local."
Dolce's hubby is a huge birther, and there's no reason not to think Dolce isn't one herself.
Posted by Terry K. at 6:33 PM EST