MRC's Bozell Still Playing Down Limbaugh's Misogyny
Topic: Media Research Center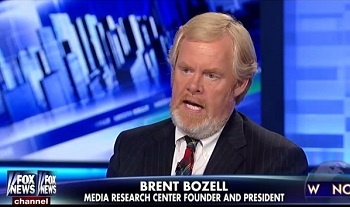 Brent Bozell has always been a coward when it comes to Rush Limbaugh's three-day misogynistic denigration of Sandra Fluke. Now he's pretending that it really wasn't offensive at all.
On the Dec. 6 edition of Fox News' "The Kelly File," Bozell asserted that Martin Bashir's comment about Sarah Palin "was 100-fold more serious than anything Rush Limbaugh has ever said about anyone in 30 years on his show."
Really? Calling Fluke a slut and a prostitute is not offensive? And don't forget (as Bozell wants you to), Limbaugh said much, much more.
Claiming that Fluke wants to be paid to have sex is not offensive? Claiming she's going broke having sex is not offensive? Claiming that Fluke has man lined up around the block waiting to have sex with her is not offensive? Demanding that Fluke post videos of herself having sex on the Internet is not offensive?
Perhaps Bozell can explain the scale he uses to declare that Bashir's single comment is "100-fold" more offensive than Limbaugh's three days of denigration.
Posted by Terry K. at 4:18 PM EST