WND's Unruh Whitewashes Phill Kline's Misconduct, Law License Suspension
Topic: WorldNetDaily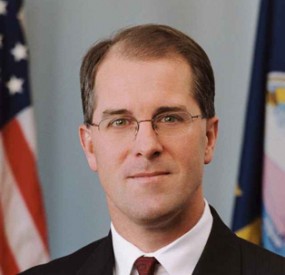 Bob Unruh writes in a Dec. 7 WorldNetDaily article:
A Kansas Supreme Court that recommended former Attorney General Phill Kline's law license be suspended indefinitely for his investigation of alleged criminal activity on the part of abortionists is being petitioned to correct its own ruling.

The fight over the abortion industry in the state, which included Wichita late-term abortionist George Tiller as well as Planned Parenthood, the American abortion industry's biggest player, has gone on for years, pitting Kline, in his office as attorney general and then in the position as Johnson County district attorney, against the whole of the abortion industry including state officials who ardently supported abortion.

Among those was Gov. Kathleen Sebelius, now Health and Human Services secretary, who went way beyond being pro-abortion to being "pro-death," according to attorneys who worked on the brief.

The petition was filed by attorneys working with the Life Legal Defense Foundation, and seeks a rehearing or modification in Kline's case, in which the suspension of his license was recommended over issues such as his alleged failure to make certain grand jurors understood state law after he explained it to them.
Wow -- way to whitewash what Kline did, Bob. Needless to say, Kline did much more than commit a "failure to make certain grand jurors understood state law after he explained it to them," and his law license was not suspended merely for "his investigation of alleged criminal activity on the part of abortionists." Let's see what a real news organization reported about Kline:
Citing "clear and convincing evidence" of professional misconduct, the Kansas Supreme Court on Friday indefinitely suspended the law license of former Kansas Attorney General Phill Kline.

The court found that Kline violated 11 rules governing the professional conduct of attorneys during his tenure as the state's highest law enforcement officer and while he served as Johnson County district attorney.

[...]

The court cited three aggravating factors to support the indefinite suspension: selfish motive, a pattern of misconduct and his refusal to acknowledge the wrongful nature of any of his misconduct. Those outweighed mitigating factors: absence of prior disciplinary record, previous good character and reputation, and cooperative attitude toward the proceedings.

[...]

The court found Friday that when he was attorney general, Kline committed misconduct by instructing members of his staff to attach sealed documents to a publicly filed document in violation of a Supreme Court order. He also told staff to file a court pleading that contained misleading information.

The court further found that as Johnson County district attorney, Kline failed to properly advise members of a grand jury about Kansas law and sought to enforce a grand jury subpoena against the grand jury's wishes.

It also found that Kline gave false testimony to a judge and made "false and misleading" statements to the Supreme Court about the handling of patient records obtained during the criminal investigations. He also did not correct a misstatement to the state's disciplinary administrator regarding the storage of patient records.
Unruh doesn't mention that Kline lied to a judge and the Kansas Supreme Court. Nor does he mention that Kline, despite his law license suspension, still teaches at the right-wing Liberty University law school (where, by the way, his online bio does not reflect his law license suspension).
Being the one-source wonder he is, Unruh quotes only people defending Kline, and makes no apparent effort to get a reaction from anyone else abouty his appeal.
This kind of "reporting" is obviously the norm at WND -- he could never get away with it at his old employer, the Associated Press -- but all he's doing is creating more evidence for why nobody believes WND.
Posted by Terry K. at 12:34 AM EST
Updated: Tuesday, December 10, 2013 12:34 AM EST