Larry Klayman Is Still An Incompetent Lawyer (But WND Doesn't Want You To Know That)
Topic: WorldNetDaily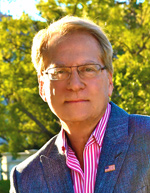 Jerome Corsi slobbers all over Larry Klayman in a Dec. 16 WorldNetDaily article celebrating a ruling Klayman somehow managed to win:
The attorney who won a high-profile federal court fight Monday with the National Security Agency over its invasive telephone-call spy program says he was put under surveillance – and more – by the agency when he filed the case.

Larry Klayman, a WND commentary contributor and founder of Judicial Watch and, more recently, FreedomWatch, told WND that once his allegations that the federal government was violating the Constitution with its "watch-every-call" strategy hit the courts, he noticed problems with his email.
"People began receiving from me emails that I had never sent," Klayman told WND, suggesting harassment in response to his work. "The government just wanted me to know they were watching me."
What Corsi won't tell you: The judge in the case rejected Klayman's paranoid arguments.
As Dr. Conspiracy notes, Judge Richard Leon wrote in his ruling:
Likewise, I find that plaintiffs also have standing to challenge the NSA's querying procedures, though not for the reasons they pressed at the preliminary injunction hearing.

[...]

I specifically asked Mr. Klayman whether plaintiffs had any "basis to believe that the NSA has done any queries" involving their phone numbers. … Klayman responded: "I think they are messing with me" … then went on to explain that he and his clients had received inexplicable text messages and emails not to mention a disk containing a spyware program. … Unfortunately for plaintiffs, none of these unusual occurrences or instances of being "messed with" have anything to do with the question of whether the NSA has ever queried or analyzed their telephony metadata, so they do not confer standing on plaintiffs.
In other words, Klayman won the injunction in spite of his lawyering, not because of it. Corsi won't tell you that, of course. Nor will he mention the numerous examples in which Klayman wated his clients' money by his incompetence -- like his representation of WND in suing Esquire magazine for defamation, in which Klayman introduced fraudulent evidence and wouldn't concede that WND editor Joseph Farah admitted that Esquire's blog post about Corsi's birther book was satirical before it became "inconvenient" for him to do so.
But Corsi wasn't done slobbering over Klayman. The next day he wrote:
Fresh from winning a restraining order against the National Security Agency's telephone surveillance, attorney Larry Klayman declared that the misdeeds of Richard Nixon, who resigned in disgrace, pale in comparison to President Obama's.

"In Watergate, Richard Nixon faced impeachment for breaking into the offices of the chairman of the Democratic National Party," Klayman told WND in an interview.

"Obama has broken into the homes of 300 million Americans."

WND asked Klayman if he was calling for the impeachment of Obama.

"Yes," Klayman responded. "The NSA and the Obama administration are engaging in criminal behavior, and both are lying."
Again, no mention of the fact that Klayman's lawyering skills had little to do with his "win."
Posted by Terry K. at 3:48 PM EST