Terry Jeffrey's Laughably Simplistic View of Illegal Immigration
Topic: CNSNews.com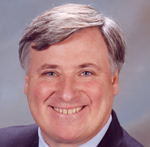 Here's what CNS editor Terry Jeffrey thinks the immigration issue boils down to, according to his Dec. 4 column:
Daniel and Samuel were both born in Monterrey, Mexico on the same day in 1990 and baptized by the same priest two Sundays later.

Both attended the same primary and secondary schools. Both dreamed of some day moving to the United States. But there the similarity ends.

Samuel dropped out of school in tenth grade. Daniel graduated from secondary school, went on to the university and graduated at the top of his class.

The last time Samuel ever walked through the door of a church is when he walked out of one just after receiving the sacrament of confirmation. Daniel served as an altar boy and attends Mass every Sunday, every holy day and often on other days as well.

After dropping out of school, Samuel held a series of jobs, doing unskilled labor. After graduating from college, Daniel took a teaching job at a local high school and attended graduate school at night, hoping eventually to earn a doctorate in history.

Daniel is habitually honest. In keeping with his religious faith, he would never knowingly break a law unless it was plainly an unjust law — such as one that required him to discriminate against somebody because of their race or to pay for an abortion.

Daniel — also because of his fundamental beliefs — consciously discovered as an adult what he instinctively knew as a child: He was a conservative, who embraced work and family along with his faith.

Samuel was not particularly concerned with any of these things.

At the age of 23, both Samuel and Daniel still dreamed of moving to the United States.

Which of these two hypothetical men would be more likely to illegally cross the U.S. border and illegally work and settle in the United States?

[...]

Daniel, considering his true and deeply held moral and religious convictions, could never identify with or lean toward a political party dedicated to the legalized killing of unborn babies and state-sanctioned same-sex marriage.

Since the majority of "unauthorized" Latino immigrants do lean toward a party dedicated to these things, this also seems to suggest Daniel would not be the man to illegally immigrate to the United States.
So, according to Jeffrey, illegal immigrants aren't just uneducated, they're not Christian. Never mind that he has no proof of this -- to the contrary, the vast majority of immigrants, documented and undocumented, are Christian or likely to become one.
In fact, there are probably a few undocumented immigrants that attend whatever church Jeffrey attends -- but he probably doesn't know because they are unlikely to speak up lest they someone like Jeffrey reports them to the authorities.
Jeffrey's laughably simplistic view of immigration demonstrates how much he places right-wing ideology over reality.
Posted by Terry K. at 10:34 PM EST