Oops! NewsBusters Post Questioning Why Guns Are Public Health Issue Overtaken By School Shooting
Topic: NewsBusters
In a Dec. 13 NewsBusters post, Paul Bremmer complained:
Two days ahead of the one-year anniversary of the Newtown mass murder, Dr. Nancy Snyderman took to the air on NBC's Nightly News, labeling gun violence a public health issue. However, neither Snyderman nor anybody quoted in the story made it clear exactly why the gun issue is a matter of public health.
Unfortunately for Bremmer, around the time the post went up, he got his answer in the form of a shooting at a high school in Colorado, in which a teenager wounded a fellow student before killing himself.
That prompted NewsBusters to add a "Managing Editor's Note" to the top of Bremmer's post to explain the timing:
Managing Editor's Note: Due to a Media Research Center Christmas party held this afternoon, this post was pre-written Friday morning -- well before the school shooting today in Centennial, Colorado -- and was scheduled to automatically post at 3 p.m. Eastern. We regret the unfortunate but accidental timing and our thoughts and prayers are with the citizens of Centennial.
Here's a screenshot just in case NewsBusters decides to make the badly timed post disappear: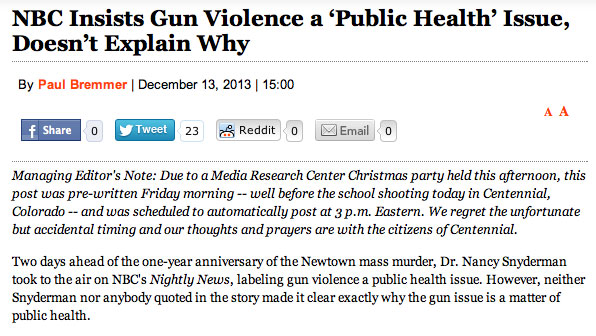 Posted by Terry K. at 11:47 PM EST