MRC Is Angry That Lingerie Is Getting Less Slutty
Topic: Media Research Center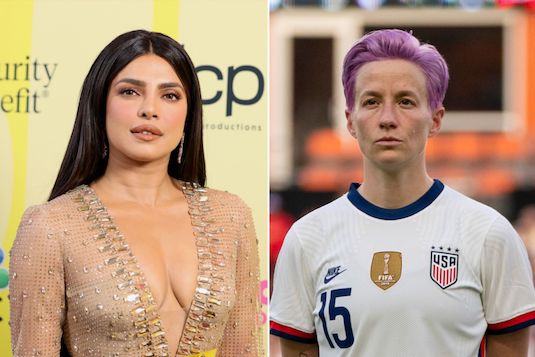 The Media Research Center is concerned that women's lingerie isn't slutty enough. Veronica Hays expressed her concern in a June 17 post:
The Golden Age of Victoria's Secret and the "Angels" has come to an end. Women everywhere will be excited to learn that the likes of lesbian Megan Rapinoe and a transgender woman are the brand's new image. And if you don't think that's sexy, you're a bigot.

Victoria's Secret has been in decline for some time now. Poor business management, scandalous associations between the owner Les Wexner and the late pedophile Jeffery Epstein, changing sensibilities with the toxic #Metoo movement, and a global pandemic the corporate giant has been faced with a plethora of internal and external issues.

Now, in their darkest hour, Victoria's Secret is desperately grasping at a complete brand turn-around. Inclusivity is Victoria's Secret do-or-die strategy. The classic allure, style, and femininity of their products are likely to be sacrificed in this endeavor. The iconic Victoria's Secret Angels are now considered out of vogue, backwards, and unappealing to women's modern feminist sensibilities.

[...]

Apparently Megan Rapinoe, the World Cup Soccer Champion and rabid leftist is what women want. The soccer star will be joined by actress Priyanka Chopra Jonas, Sudanese-Australian model Adut Akech, freestyle skier Eileen Gu, Brazilian transgender model Valentina Sampaio, plus-size model Paloma Elesser, and journalist Amanda de Cadenet in this rebrand attempt. Selecting a transwoman (a fake woman) to represent feminine beauty is deeply insulting to women everywhere.

Thank the Lord and His great mercies though, as none of these characters will actually model lingerie. Rather, they comprise Victoria's Secret's new initiative called "The VS Collective" -- "leading icons" and changemakers" to "shape the future of the brand."
Remember, the MRC absolutely despises Rapinoe for committing the offenses of not being heterosexual and for having criticized Donald Trump. And we all know how much the MRC hates transgender people.
Hays was bizarrely amused by a fellow hateful right-winger claiming thet Victoria's Secret was targeting "the ugly commie demographic," then concluded by whining, "Usually, the saying goes 'go woke, go broke,' but in this case, Victoria's Secret is broke and now going woke as if that is the best strategy towards renewing its success."
Interestingly, this isn't the only instance of Hays complaining about a disturbing lack of sluttiness in lingerie. She attacked a brand that isn't even sold in America in a June 23 post:
Ladies, is your underwear down with the struggle? Err, we mean, does your intimate apparel broadcast your politics? Err ...

British retail giant Marks & Spencer is honoring the memory of BLM Martyr George Floyd by adding five new shades to its collection of neutral or nude-colored underwear. This "inclusive" range is inspired by the "global conversation on racial inequality" prompted by the tragic death of Floyd while in police custody.

M&S is adding darker shades to the collection bearing gemstone names like Topaz, Amber, and Rich Quartz, adding further significance to "things that are special and precious." Up to this point, the collection has focused too much on paler complexions.
Yes, a white woman is complaining that women's lingerie is being made in colors that reflect non-white people. She referenced her Victoria's Secret post, then sneered, "Let's hope it backfires for both."
Posted by Terry K. at 9:01 PM EDT