How Is The MRC Hating LGBT People On TV Now?
Topic: Media Research Center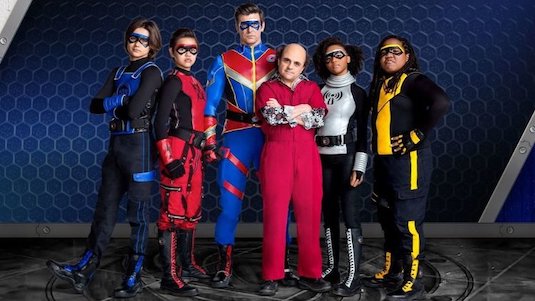 The rampantly homophobic Media Research Center reliably melts down anytime the non-right-wing media refuses to hate LGBT people the way it does. Let's look at how it's been doing that lately, shall we?
Veronica Hays lashed out at Nickelodeon in a June 4 item:
Just in case kids haven't gotten the message that gender confusion is cool, Nickelodeon is offering yet more LGBTQRX (and sometimes Y) propaganda for juveniles.

A new episode of the live-action series Danger Force will feature the first-ever transgender character and actor in Nickelodeon's history. Sasha A. Cohen, a 13 year-old transgender boy, in reality, a biological female, was handpicked by the show's creator Michael D. Cohen (no relation) to accomplish this groundbreaking moment in TV history.

The young transgender caught Cohen's attention as one of the applicants for his Trans Youth Acting Challenge meant to help trans and binary youth excel in the entertainment industry. (And to promote the Trans agenda to teens.)

[...]

The poor girl-turned-boy is being used as a prop to further promote a system of insidious lies surrounding biological sex that manifests itself in the destruction of otherwise normal children.
Meanwhile, Hays clearly wants to destroy transgender people by keeping them from holding jobs and to make the world hostile (if not violent) to them.
Dawn Slusher did some hate-watching on June 7:
Does the "+" in Disney+ stand for LGBTQ+? If we go by Disney+'s brief history of constantly inserting the LGBTQ agenda into its many shows, the answer would likely be yes. And now the streaming service has featured a lesbian kiss among underage girls (possibly its first) in its "family" sports drama Big Shot that has a target audience as young as age 8. We've sadly come a long way from innocent Mickey Mouse cartoons.

There have been hints of Disney's agenda in the other "family" shows I watch on their streaming service, such as The Mighty Ducks: Game Changers in which one young character let everyone know he has two moms in almost every episode. But when they actually depict a physical, lesbian kiss between two minor girls for an eight-year-old audience, that's definitely going too far.

Slusher didn't explain what this supposed "LGBTQ agenda" is.
Gabriel Hays, meanwhile, was mad that Fox Broadcasting, unlike its news division, doesn't hate LGBT people:
Pride month seems to be more like an obsession than a celebration this year with every media outlet, including those devoted to kids' programming, pandering to the vegetable soup community.

The FOX TV network is the latest to go all in on the pro-gay programming, releasing very flamboyant advertisements for Pride Month teasing the gayest moments of recent and upcoming seasons over some "rainbow-themed" original music.

FOX TV hit the Pride Month ground running, featuring an ad on June 1st dedicated to the festivities. FOX posted the ad to its Twitter account with the caption, "Happy Pride Month! Join me and my FOX Fam in celebrating the LGBTQIA+ community and achievements. #TVForAll."

Oh interesting. Know that "LGBTQIA+" stands for "Lesbian, Gay, Bisexual, Transgender, Queer, Intersex, Asexual/Aromantic/Agender," so yeah FOX TV is not just about tolerance for different sexual persuasions, it's about promoting the reality-denying transgender/non-binary/genderfluid tenets pushed by the extreme radical left.

Basically the floodgates have been opened, and huge mainstream channels like FOX are now down with whatever the LGBTQIA+ activists say they need to be down with. Will they be marketing to kids with cartoons promoting puberty blockers next?
Hays also referenced the "LGBTQ agenda," but like Slusher didn't explain what it supposedly is. Does it stop being a threat that scares the MRC's readers if it's explained?
On June 21, Eiise Ehrhard fretted about what is apparently an even bigger threat than the "LGBTQ agenda," -- the "LGBTQIA agenda" -- as she complained about a show on Hulu: "No doubt in the ideal radical activist LGBTQIA world, Christian rituals and theology would be replaced by the almost ritualistic celebration of homosexual activity that accompanies gay pride month, often without any regard for children present." Unspoken by Ehrhard: In the radical right-wing homophobic world she clearly wants, LGBT people would be suppressed, if not punished for their behavior.
And even though the MRC has no audience in Australia, Veronica Hays hates LGBT people enough to spend a June 22 post complaining about a show Down Under that failed to hate them:
Pay no attention to what you have down under, kids, gender is fluid! Australian public broadcaster ABC, funded by Aussie taxpayers is culpable for the latest instance of the LGBTQ's targeting and indoctrination of children.

Courtney Act, a drag queen made famous by RuPaul's Drag Race, guest stars alongside elementary school children for a segment called "Little Kids, Big Talk." The five-minute long video was posted to the ABC Kids Community Facebook page. The flamboyant man dressed as a woman engages in a back and forth with little children about "gender fluidity" and other nonsense such as pronouns and cross dressing.

Some parents let their child hang around with a mentally ill man, and allowed a video of it, which was posted on Friday, to reach 900,000 viewers so far.

[...]

It's not "teaching tolerance," it is abuse. If anything, children should be taught the harms of distorting true femininity and masculinity. It is more appropriate that we instill within them a holy fear of such immorality and unnatural behavior. Only then can there be a renewal within this increasingly decaying society.
Hays offered no evidence to support her assertion that drag queens are "mentally ill." And it's more than abundantly clear that she wants children to be taught to think they are -- and to hate them for it.
Posted by Terry K. at 10:20 AM EDT