The MRC's Soccer Shenanigans
The Media Research Center heaped scorn on women's soccer star Megan Rapinoe for the offense of being gay and criticizing Trump -- but it loves another soccer player for her anti-gay hate.
By Terry Krepel
Posted 8/7/2019
---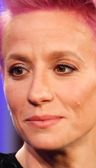 Megan Rapinoe
The Media Research Center took a vacation from freaking out about journalists on TV like Jim Acosta to go into freakout mode over an athlete: soccer star Megan Rapinoe. And who better to lead said freakouts than the MRC's very own mysterious, gay-hating sports blogger, Jay Maxson.

Maxson was already on the attack back in May, well before the World Cup started, complaining that Rapinoe was the first out lesbian to pose in Sports Illustrated swimsuit issue and then sneering: "The folks at ESPN can say big deal. Rapinoe posed naked with WNBA star Sue Bird in our Body Issue last year." (Maxson has irrational hatred for the Body Issue.)

Maxson became unhinged a few days later, saying that Rapinoe's declaration that her World Cup play would serve as an F-you to the Trump administration meant that she "is taking the SJW baton from Colin Kaepernick and giving President Donald Trump an ongoing middle finger," going on to call her "a far-left activist and Hillary Clinton supporter." (Maxson irrationally hates Kaepernick too.) After the U.S. team's 13-0 crushing of Thailand in the first round of the Women's World Cup, Maxson raged that Rapinoe "refused to honor America during the pre-game national anthem" as "the only American player without her hand over her heart, eyes focused on the flag and singing the Star Spangled Banner," huffing that "Rapinoe's defiance drew little media disapproval." Maxson then aimed his/her attacks against anyone who defended Rapinoe (while making sure his readers know she's a "lesbian," -- or, more specifically, "the undisputed lesbian queen and social justice warrior of pro women's soccer" -- while accusing one writer of offering a "defense of Rapinoe's sexual orientation").

Maxson then went into conspiracy mode over World Cup coverage:
Over the weekend, USA Today's coverage of the U.S. women's national soccer team's play in the World Cup in France could have easily been thought of as a well-coordinated attack on President Donald Trump. Saturday's online edition carried three politically charged stories on the soccer team — one-fourth of the day's "Top Stories" list — paying little attention to the team's actual play on the field.
Maxson also huffed that Rapinoe has been expressing "defiance" by "waging an anti-Trump campaign for several weeks and who stands silently without her hand over her heart during the pre-match national anthem."
Maxson also ranted that Rapinoe "is being hailed as the new version of the symbol she detests" by likening her to the American flag. Maxson offered no evidence that Rapinoe's failure to offer the forced salutes to the flag that he/she demands equates to "detesting" it.
The rant baton then got passed to Matt Philbin, who immediately denounced Rapinoe as an "angry, outspoken lesbian" and was apoplectic that a writer called her "her generation's Muhammad Ali" and praised her self-expression, huffing that "the self-expression fetishists weren't so thrilled when a devoutly Christian prospect for the World Cup team didn't want to wear a rainbow 'Pride' jersey." (Hating gays, it seems, is the only acceptable form of self-expression as far as the MRC is concerned.)
Maxson returned to go on an anti-gay tear with a bonus sneer at a "trans" writer:
SBNation trans writer Kim McCauley waved off all objectivity in her first sentence, admitting she's "an unabashed fan" of the World Cup champion U.S. women's soccer team. Her post, "Why the USWNT's open queerness matters", confirms what's been obvious throughout the duration of the World Cup, by the team and its media friends: the U.S. team is a bastion for queer hope and a vehicle for LGBT+ pride.
Maxson was further put out that previously "American lesbian soccer stars kept their sexual orientation secret to retain endorsement opportunities" but "Now, with the media's encouragement, they flaunt it for all it's worth."
Maxson then whined again at USA Today for being "obsessed beyond obsession with this team and its gay rights and anti-Trump crusades" (as if Maxson wasn't obsessed with trying to tear Rapinoe down), further huffing that "Media are positively enamored with the outrageous Rapinoe, a wild-eyed supporter of Colin Kaepernick."
Gabriel Hays followed by complaining that Rapinoe "slammed President Donald Trump ... blasting his 'Make America Great Again' slogan as a message that's 'excluding people'" (though he didn't factually dispute her claim). He also groused that Rapinoe would reject any invitation from Trump to visit the White House, it "doesn't mean that Rapinoe isn't interested in taking a victory lap around D.C. The U.S. women's captain has accepted invites to visit Democratic lawmakers at the Capitol, agreeing to visit Democratic congresswoman Alexandria Ocasio-Cortez, House Speaker Nancy Pelosi, and Democratic senator Chuck Schumer."
That was followed by Scott Whitlock making a lame media attack, complaining that after Rapinoe "dropped the F-bomb during a championship parade in New York City," MSNBC's Andrea Mitchell "praised the 'eloquence' of the soccer star." Kyle Drennen then bashed MSNBC's Rachel Maddow for conducting a "predictably fawning" interview with Rapinoe, further sneering, "Move over Colin Kaepernick, the liberal media have found their new champion."
Indeed, any media praise of Rapinoe set the MRC into throes of anger. Curtis Houck contributed a sneer of his own: "Despite the fact that the 2019 FIFA Women's World Cup ended on Sunday, the liberal media's infatuation with not so much the U.S. Women's National Team's play on the pitch but their wokeness off it has continued." The MRC's chief Acosta Derangement Syndrome sufferer then groused that praise for Rapinoe standing up to Trump were somehow "great reminders that TDS was real and idolatry was a sin!" Tim Graham joined the fun by complaining that "Meet the Press" host Chuck Todd "gushed like a geyser" over guest Rapinoe.
Maxson then wrested back his MRC-provided soapbox to tout a right-wing writer calling Rapinoe "a foul-mouthed stage hog" whose "all-about-me diva pose" should have been reined in (something no MRC employee has ever said about Donald Trump), and that her team's achievement in winning the world Cup means nothing because"It was the Women's World Cup!'
In a July 29 post, Maxson served up his most bizarre attack on Rapinoe, declaring that because Rapinoe says she didn't fell bullied by Trump's tweets attacking her, Trump thus could not possibly have been trying to bully her:
The truth is coming out. Soccer firebrand Megan Rapinoe is not the poor little victim of presidential bullying that her media enablers have been making her out to be. In a Vox Recode interview with Kara Swisher (in photo) she goes to the extreme of claiming membership in the "Squad" as a victim of President Trump's bullying. Trying to have it both ways, Rapinoe tells Swisher that Trump's tweets made her famous and spurred Team USA onto World Cup victory.

Rapinoe is a Colin Kaepernick-inspired social justice warrior who said this spring she refuses to honor America during the playing of the national anthem as a ''big F-you" to President Donald Trump. During the World Cup, she told a reporter she would not go to the "fucking White House" if the U.S. won the championship. Trump responded on Twitter that she should win first before talking White House, then invited the team win or lose. To many in the media, Trump was the villain, Rapinoe the damsel in distress.
Of course, whether Rapinoe ultimately felt bullied is irrelevant to the apparent intentions of Trump in attacking her.
Obsessing again over Rapinoe's sexuality, Maxson went on to huff that "Rapinoe the role model indicates her inspirations are Kaepernick and wine. And her significant other, WNBA player Sue Bird, whose virtues were extolled by CNN's commie Van Jones," adding further freakout-level annoyance at a writer who noted that "This power couple has surpassed Ellen DeGeneres and her partner."
Anti-gay freakouts, sadly, are very much on-brand for Maxson and the MRC.
Cheering a gay-hating soccer player
When it came to cheering an anti-gay soccer player, Maxson was the leader in that too.
Jaelene Hinkle is a pro soccer player who refused a call-up to the women's national team in 2017 because the team's rainbow jersey was offensive to her religious anti-gay beliefs. In July 2018, when Hinkle was briefly on the U.S. women's team, Maxson was itching to turn her into a Christian martyr for her anti-gay views amid a purportedly hostile "lesbian" team:
An intolerant media voice is urging the rainbow-themed, LGBT-dominant U.S. National Women's 'Lesbian' Soccer Team to give the boot to a new Christian player. Christina Cauterucci's Slate.com headline spares no mercy for the "poisonous" Christian "bigot" Jaelene Hinkle, encouraging the team to: "Kick Her Off."

The U.S. National Women's 'Lesbian' Team is preparing for the "friendly" Tournament of Nations, but Cauterucci couldn't be more unfriendly to Hinkle.

The lesbian team is coached by a married lesbian, Jill Ellis. The face of the national team in recent years has been lesbians Megan Rapinoe and Abby Wambach. The team's lesbian orthodoxy is further enforced by rainbow-themed uniform numbers. That makes Hinkle an undesired "heretic" to hostile media and fans.
A few days later, when Hinkle was dismissed from the team, Maxson's martyr narrative was set, huffing that "One can make a strong case that the only reason Jaelene Hinkle was invited last week to the U.S. national women's soccer team training camp was to avoid accusations of blackballing a Christian player. But the invite appears to be a sham; she was cut just five days after the call-up, amid hateful LGBT rants against her." Maxson whined that Hinkle was being "blackballed for her faith," adding that her dismissal was "a warning to young girls with aspirations of playing for Team USA that they might need to fit a certain sexual orientation to make the team. And they can check their faith at the stadium gates."

While Maxson highlighted a Yahoo Sports article on Hinkle's dismissal, he ignored one thing that didn't fit his/her narrative: the writer noting that "a more banal scenario" could be that "Hinkle didn't have a great tryout."
As the World Cup approached this year, it was time for Maxson to reignite the narrative.

A June 9 post vented outrage that "four team members are pushing for radical cultural change" by co-founding a company to make gender-neutral clothing in inclusive sizing, to which Maxson huffed: "Non-binary ways inclusive, that is." Maxson added: this team is heavily dominated by an LGBT influence. Ellis is married to a woman. The face of the national team in recent years has been lesbians Megan Rapinoe and Abby Wambach. The team has rainbow-themed uniform numbers, and a Christian hopeful of playing with the team last year, Jaelene Hinkle, was considered an undesired 'heretic' to hostile media and fans."

In a post sneering at Rapinoe for acting like Kaepernick, Maxson also complained that adding Hinkle could have added diversity to the team, but "tolerant-lite team, at the urging of tolerant-lite LGBT fans and media, had a fit over the mere thought of allowing someone like her to occupy a position on the team."

But Maxson studiously ignored another inconvenient fact: there are devout Christians on the team. The CatholicVote website profiled them, lauding how "On social media, several of the players reveal that they have a relationship with God," quoting one as saying "I play to glorify Him. I worship Him with the gifts I've been given."

Maxson and the MRC cannot have been unaware of this article -- after all, the author is an MRC employee, Katie Yoder, who is associate culture editor at NewsBusters and its Joe and Betty Anderlik Fellow. But portraying the team as godless, evil lesbians was the narrative, and it had to be adhered to.

USWNT team member Ashlyn Harris also shot down Hinkle's insinuation that the team isn't welcoming to Christians because it allegedly wouldn't put up with her homophobia: "Your religion was never the problem. The problem is your intolerance and you are homophobic. ... Don't you dare say our team is 'not a welcoming place for Christians'. You weren't around long enough to know what this team stood for. This is actually an insult to the Christians on our team."

In response to Harris' debunking of Hinkle, Maxson ranted in a July 16 post: "It's not enough that the LGBT-indoctrinated media are waving the rainbow flag in everyone's faces and crowing nonstop about the U.S. national women's soccer team winning the World Cup." Maxson made sure to highlight that Harris "is engaged to teammate Ali Krieger" and that the team is "coached by a woman (Jill Ellis) who's married to a woman."

Maxson added only as an aside at the very end of his piece that "Krieger's brother Kyle claimed the team holds Bible studies" -- his first acknowledgment that there are, in fact, Christians on the team who have no problem with gay teammates.

Other MRC divisions also defended Hinkle's hate. A June 27 CNSNews.com column by John Stonestreet portrayed her as a Christian martyr:
Hinkle's saga is only the most recent evidence that American Christians need to develop a theology of getting fired, or if you happen to be in Hinkle's profession, a theology of getting cut from the team.

It's simply more likely than not that we too will face a choice at some point between our career and our convictions. We aren't the first Christians who have had to face this choice, and thank God the choice isn't our life and our convictions, as it is for our brothers and sisters in other parts of the world.

Jaelene Hinkle chose well. Will we?
Talent is one thing, but team chemistry is another. If Hinkle thinks so little of her would-be USWNT teammates, it would be hard for her to fit in, no matter how good a player she is. Stonestreet appears not to have taken that into account.