Shorter MRC: Children Should Not Be Allowed To Know That LGBT People Exist
Topic: Media Research Center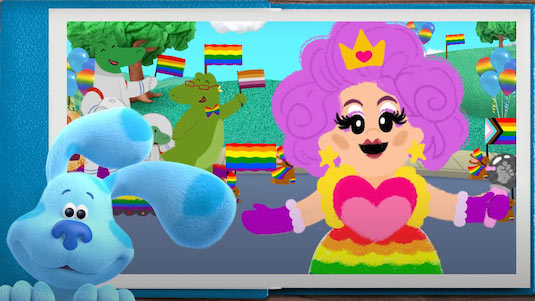 As part of its rampant homophobia (and non-binary-phobia), the Merdia Research Center has been on a tirade of late against chidren's TV shows who show that non-heterosexual people exist.
Elise Ehrhard ranted in a May 21 post:
Drag queens continue to groom preschoolers with the help of entertainment media and woke "educators."

This spring, a PBS Station in New York aired a drag queen storytime and sing-along with "Little Miss Hot Mess" on a program for children aged 3-8.

Lil Miss Hot Mess read her "children's book" The Hips On the Drag Queen Go Swish Swish Swish on the preschool program Let's Learn, for WNET, a New York PBS affiliate. Let's Learn is a partnership of WNET and the New York City Department of Education.
What, exactly does Ehrhard think letting a drag queen read a book to children is "grooming" them for? Not to hate people different from them? That would a terrible outcome as far as Ehrhard is concerned, since the MRC pays her well to spew her hate.Later in the piece, Ehrhard huffed that "PBS has been pushing Gay, Inc.'s agenda for years." she did not explain what "Gay, Inc." is, let alone its purported "agenda"; instead, she linked to the MRC's 2019 meltdown over a gay character appearing in the animated TV show "Arthur," which explains nothing.
It was Veronica Hays' turn to melt down in a May 27 post declaring that "inflicting" a gay character on the animated show "Rugrats" was "LGBTQ propaganda":
Paramount+ is releasing new Rugrats reboot this month and its gonna be gay! Yeah baby!

Your children are sure to appreciate this very inclusive update to the Rugrats lore. Unfortunately, we're not being blessed with a gay baby. No, it's actually Phil and Lil's mom Betty who is receiving a sexuality update. As pop culture outlet The AV Club says, Betty "has low-key always been a queer icon." For those who did not see this coming "let's be real: Betty was gay as f**k - and now that's actually canon."

This is a momentous occasion for the collective culture, as Betty is the first openly gay woman in the Rugrats series. The original series portrayed Betty as an independent and gutsy business woman married to the very passive and quiet Howard. He is being kicked out of the picture this time around for the Paramount+ reboot. Whether or not this new Rugrats rendition will explore new potential gay love interests for Betty is yet to be seen. For the sake of the children, let's hope not.
So before Betty was madegay, was "Rugrats" heterosexual propaganda? Hays didn't address that.
On June 1, Gabriel Hays whined that another animated show was getting gay characters:
Another favorite kids show for the last generation of youngsters is falling victim to yet more militant wokeness. Last month, Entertainment Weekly finally unveiled the new, LGBTQ-as-hell characters from its upcoming Proud Family reboot. Yes, the show now has an interracial gay dad couple, who, might we add, are the proud parents of another new character, a budding social justice activist.

Well this certainly puts the Proud in Proud Family.

The reboot, which is set to air on DisneyPlus in 2022, makes no bones about its commitment to the radical, anti-traditional family spirit of the age. Just look at the show's name, The Proud Family: Louder and Prouder. Of course, the show lives up to the euphemism, with EW announcing that gay Hollywood actor Zachary Quinto and trans actor Billy Porter will be playing an interracial gay couple.

[...]

Though what else are we to expect from Disney these days? The mega media giant has cultivated some of the most cherished childhood memories, only to brutally crush them years down the road. Ask any diehard Star Wars fan. Now it seems that even a lighthearted children's comedy about a charmingly dysfunctional African American family can't escape the woke revisionism.
The same day, Veronica Hays returned to totally lose it over "Blue's Clues" showing children that non-heterosexual people exist:
Pride Month is upon us. And with that, an onslaught of LGBTQ propaganda from every corporation and media outlet. Unfortunately, for the children of America, classic cartoons, such as "Blue Clues" are the latest mechanism being used to target kids and snuff out their innocence.

"Blues Clues" published a video to its YouTube channel entitled "Blues Clues Pride Parade Sing- Along." Nina West, a popular drag queen and previous contestant of "RuPaul's Drag Race" stars as a cartoon drag queen leading all the other queer animals in song. "This family has two mommies. They love each other so proudly and they all go marching in ... the ... big parade," the lyrics go.

You children can sing along: "this family has two mommies" and "this family has two daddies" and "these babas are non-binary." And "Ace, BI and Pan grown-ups you see can love each other so proudly."

Won't it be fun to hear them chant, "This house is a family of kings and queens, they love each other so proudly." At last, as if to signal the completion of your child's brainwashing, the song concludes with "Love is love is love you see, and everyone should love proudly."

This seemingly innocent kid's cartoon looks like an aggressive grooming campaign. There's an astonishing level of attention to detail within each moment of the video to push blatant LGBT motifs. The "Blues Clues" creators took pains with this one, even unto the point of depicting a disabled gay dolphin waving its rainbow flag from a wheelchair. Every variation of queer flag is represented and paraded around by little woodland animals. A hijab-wearing owl is shown proudly waving the rainbow flag. This is not parody.

[...]

Of course, if you disagree with a kid's show teaching your susceptible children that mutilating perfectly healthy bodies is okay and rejecting your God-given sexuality is right and proper, you are a bigot. Celebrating and encouraging mental illness in such a glaring manner should be enough to radicalize every person against these sickos. In the meantime, hide your kids, hide your wives, hide your husbands, and throw the TVs out.
What video was Hays watching that she thinks it's all about "mutilating perfectly healthy bodies"? And the fact she apparently believes that anyone who isn't a heterosexual is a "sicko" suffering from "mental illiness" tells you all you need to know about the virulent homophobic hate coursing through MRC headquearters.
Gabriel Hays served up yet another drag-queen meltdown in a June 8 post:
If your children have access to a screen and the internet they are in more danger than ever of being inundated with hyper-radical sexual politics. This Pride month, children's programming outlets are pulling out the stops to make kids okay with the trans agenda.

In a highly disturbing music video produced by kids' cable TV network Nickelodeon, a peppy singing drag queen named Nina West educated kids about pride month and all the support they need to show to oppressed LGBTQ peoples, from the gays to the transgenders.

[...]

One of the most telling signs of this propaganda being more radical and transgressive than usual, is that the video's pride flag had trans and oppressed people of color triangle on it. So not only this about celebrating the homosexual lifestyle, it was about promoting trans lifestyle and toxic critical race theory.
Of course, Hays won't tell you what this "trans agenda" is. And dismissing LGBTQ people as merely living a "lilfestyle" than being who trhey are is a longtime right-wing anti-gay trope.
Gabriel Hays and Tierin-Rose Mandelburg did a summary piece on June 16 collecting all this hate:
Once upon a time, parents could feel okay about letting their children watch cartoons or ogle the shelves of toy stores. Chances were good they'd come away with their innocence intact. No more. Progressive LGBT etc. propaganda now litters the cartoons, commercials and even the toy aisles.

Don't believe it? MRC Culture found that within the last year, from June 2020 to June 2021, at least 30 different pieces of mainstream media and consumer products – many of them children's TV episodes – assaulted kids with extreme lefty propaganda, mostly focused on promoting the LGBTQ agenda.
Again with the "LGBTQ agenda"! And, again, it's never explained what it is.Perhaps because it fits the MRC anti-gay agenda to baselessly suggest it's something sinister than that it's actually about love an acceptance -- two words that can't be found in those MRC narratives.
Posted by Terry K. at 8:44 PM EDT