WND Is STILL Blaming People's Deaths On Clinton
Topic: WorldNetDaily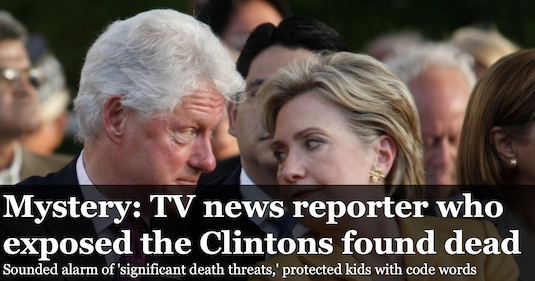 The Daily Beast highlighted how some "ghouls" in the right-wing media pounced on the death of a Georgia reporter to further hoary old "Clinton Body Count" narratives. The Daily Beast didn't mention it, but another one of those ghouls was WorldNetDaily, in a June 13 article by Joe Kovacs:
In yet another mysterious death with a connection of some kind to the Clinton family, the TV news reporter who broke news of the infamous "tarmac meeting" in 2016 between former President Bill Clinton and then-Attorney General Loretta Lynch is dead at the age of 45.

Christopher Sign, who authored a book about his big story titled "Secret on the Tarmac," was found dead Saturday, June 12, by police in Hoover, Alabama, after authorities received a report of a "person down."

The coroner's office says family members found Sign unresponsive, and police and Sign's employer say his death is being investigated as a suicide.

[...]

Sign's death is the latest in what has become known worldwide as the "Clinton Death List" and "Clinton Body Count," a tally of individuals associated with the Clintons who have died under mysterious circumstances, from falling off buildings to dying in plane crashes and freak accidents.

See the "Clinton Death List" here.
Of course WND has a compiled "Clinton Body Count" list -- back in the day, editor Joseph Farah bragged that he was the first to compile one -- but it will not tell you that the list has been long discredited. And despite the fact that Bill Clinton hasn't been president for more than two decades, WND has spent years trying to add to it:
It cynically tried to blame Seth Rich's 2016 death on Hillary Clinton.
It touted a random conspiracy theorist blaming the 2016 death of former United Nations official John Ashe on Hillary as well, repeating timeline falsehoods to boost its faulty case.
It suggested that Jeffrey Epstein was murdered in prison in 2019 by Bill Clinton.
That's how WND rolls. And that's what Farah wants you to give him money to continue to do.
Posted by Terry K. at 12:59 AM EDT