Word Police: CNS Attacks Biden For Omitting A Word From A Proclamation
Topic: CNSNews.com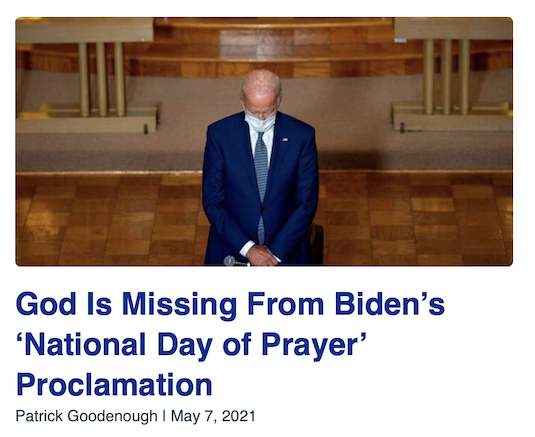 No slight is too minor an excuse for CNSNews.com to launch partisan attacks on President Biden. In a return to the way it covered President Obama, CNS previously played word police by complaining that Biden's Easter message didn't mention Jesus. IN a May 7 article, Patrick Goodenough ramped up the word-police activism:
As American presidents have done for more than three decades, President Joe Biden this week proclaimed the first Thursday in May a "National Day of Prayer," but unlike his predecessors' proclamations, his included no reference to God, the Almighty, Providence, or any similar term.

Only in the formal closing paragraph of the proclamation does the formula "in the year of our Lord" – customary in presidential proclamations – appear preceding the year of issue.

[...]

Previous presidents' National Day of Prayer proclamations have varied widely in tone and substance, and have frequently included religiously-inclusive language (such as "no matter our faith or beliefs," "each according to our own faith and tradition," or "gathering in churches, synagogues, mosques, temples, and homes").

But at the same time there have been plentiful references to "God," including such titles as "Creator," "Maker," "the Almighty," and even "our loving Father."

Some have unapologetically included verses from the Old and New Testaments of the Bible, or such well-known Judeo-Christian phrases as "all things are possible with God" (Trump 2020), "a just and loving God" (Clinton 2000), or "our rock and our salvation" (Bush 1990).
Pronouns referring to God have usually been capitalized, a show of reverence used by some when referring to the deity in the Abrahamic faiths.
Later that day, managing editor Michael W. Chapman trotted out his favorite right-wing evangelical to attack Biden:
Commenting on President Joe Biden's decision to not include the word "God," or any reference to God, in his National Day of Prayer Proclamation, Rev. Franklin Graham said Biden was the first president to omit the word "God," and warned the Democratic president, "Omitting God is a dangerous thing."

"Why would President Biden omit God?" wrote Graham in a May 6 post on Facebook.
CNS then puiblished commentaries by right-wing Catholics similarly playing word police and wildly speculating on why that certain word was missing. First up was dishonest Catholic activist Bill Donohue, who proclaimed: "It is no secret that the Democratic Party is home to secularists. Those who have no religious affiliation, as well as agnostics and atheists, have laid anchor in the Party, many of whom are openly hostile to religion and people of faith. It is not a leap to conclude that this mentality colored Biden's prepared remarks." He further huffed that participants in the National Day of Prayer "are expected to pay tribute to God, which is why what President Biden did was inexplicable at best and objectionable at worst."
This was followed by a May 12 commentary by Rev. Michael Orsi:
This presidential "prayer" was reflective of a great deficiency that besets our time. The influence of faith in our national life (and in individual lives) has surely been reduced. Many people these days claim to be "spiritual" but not "religious." This leaves them asking a fundamental question: Is there a God who gave us life and to whom we are responsible?

The implications of this question are far-reaching, because the underlying assumption of our political system — as made clear in the nation's founding documents — is that our rights and freedoms come from God, not government.

What does it say that the president of the United States makes no recognition of God during an event that has always highlighted the importance of appealing to that God?
What does it say that CNS is blurring the church-state line by engaging Catholic priests and activists to issue partisan political attacks?
Posted by Terry K. at 1:11 PM EDT
Updated: Sunday, June 6, 2021 8:25 PM EDT