CNS Cheers Another Anti-LGBT Law In Authoritarian Hungary
Topic: CNSNews.com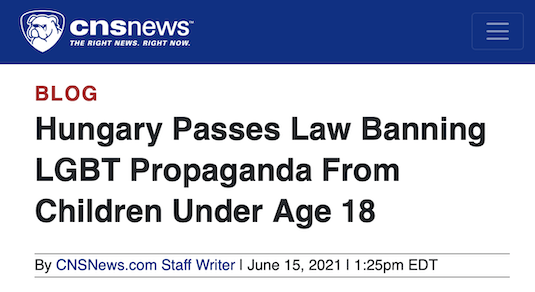 One of CNSNews.com's favorite countries is Hungary, because it's filled with right-wing authoritarians led by Viktor Orban who hate LGBT people as much as CNS does. So whenever Hungary promotes a new anti-LGBT initiative, CNS is there to praise it. That happened again in an anonymously written June 15 article:
In a vote of 157 to 1 on Tuesday, the National Assembly of Hungary passed a law that prohibits pro-LGBT materials from being used in schools educating people under the age of 18.

The new law was passed as an amendment to an anti-pedophilia bill, and it explicitly bans "content that depicts sexuality for its own sake, or promotes or displays deviations from the identity of the sex of birth, gender reassignment or homosexuality."

Explaining the reason for the law, a Hungarian government spokesman told The Guardian, "There are contents which children under a certain age can misunderstand and which may have a detrimental effect on their development at the given age, or which children simply cannot process, and which could therefore confuse their developing moral values or their image of themselves or the world."
The anonymous CNS writer turned quite gushy about Orban's party and his anti-LGBT crusade:
The ruling party in Hungary, an alliance of the Fidesz and KDNP, is committed to strengthening and preserving Hungary's Christian culture. The prime minister, Viktor Orban, is in his third term, having first been elected in 2010. The next election is in 2022.
Sounds like a press release for Orban, doesn't it? The anonymous writer that, even according to CNS' own reporting, Orban is an authoritarian whose party has rigged the country's laws to ensure he stays in power, even granting him powers to rule by decree. Hedoesn't sound like a person who cares about election results.
That's not the only defense of Hungary CNS has served up. In a July 12 article, Elizabeth Nieshalla went after United Nations "LGBT czar" Victor Madrigal-Borloz for standing up for LGBT rights and singling out Hungary for being hostile to them:
During the press conference, Madrigal-Borloz openly criticized Hungary for its Christian stance against promoting LGBT issues in schools.

According to Madrigal-Borloz, Hungarian laws in relation to sexual education follow an "upbringing based on Christian values" and "perpetuate stigma."

"Comprehensive sexuality and gender education allow for the deconstruction of stigma" and it is helpful to "deconstruct stereotypes about sex, sexuality and pleasure," Madrigal-Borloz said.

In order for a restriction of freedom to be justified, there must be a "valuable societal objective," and he argued that there is none for a person altering their gender or sexuality.

"I see nothing within the limits of a democratic society that would justify restricting that freedom (to change one's sex or gender)," said Madrigal-Borloz.

Additionally, he questioned Hungary's eligibility to be part of the EU bloc, as membership in the bloc is based on the shared, pro-LGBTQ values of the bloc.
Nieshalla also weirdly suggested that Hungary wasn't as anti-LGBT as portrayed because "Hungary supported the creation of the position Madrigal-Borloz now holds as LGBT Czar of the U.N. in 2016." But she didn't cite what Hungary has done to further anti-LGBT sentiment, even though the "news" organization she's writing for has previously reported on and praised them.
Posted by Terry K. at 1:29 PM EDT
Updated: Monday, July 19, 2021 1:32 PM EDT