MRC's Houck Extends War On Psaki (And Man-Crush On Doocy) To Media Profiles
Topic: Media Research Center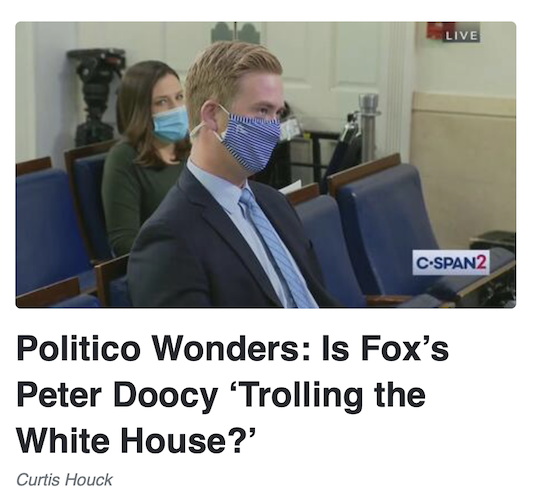 Media Research Center writer Curtis Houck has repeatedly demonstrated his unhinged hatred of White House press secretary Jen Psaki, and his concurrent man-crush on Fox News repoter Peter Doocy for his near-daily hostile questioning of Psaki. That same wild bias surfaced again regarding media profiles of the two.
Houck devoted a May 5 post to ranting about a magazine profile of Paski that didn't hate her as much as he does:
On Wednesday, Washingtonian magazine came out with a nearly-2,220 word profile of White House Press Secretary Jen Psaki that could best be described as a slobbering love letter that hailed her as a fact-based saint who refuses to play to the cameras, plays and works well with reporters, and represented a break from the belligerence and back-talking of the Obama and Trump administrations.

And unsurprisingly, the piece treaded carefully on extended criticism and pushback on Psaki and her administration colleagues until paragraph 22 out of 30. But before that? Plenty of phrases and words like "competence porn," "personality that exudes from the podium," "pleasant," "unflappable," and "well-qualified."

[...]

Doing her part to laud Psaki, Goldstein contrasted her "measured" and "warm" tone that asked reporters how their families were doing with Trump press secretaries being "Trumpites" having "gleefully performed belligerence on camera."

"Psaki succeeds by arguably doing the impossible: Her face and voice beam out of our screens on a regular basis, and she rarely draws attention to herself," she later added.

[...]

On this theme of warmness, this was also a lie. Psaki caused a kerfuffle when she mocked the Space Force (and refused to apologize), dismissed the lack of action from Vice President Harris on the border, laughed at Peter Doocy's phrasing of the border crisis, questioned Kristin Fisher's humanity as a mother and person, and was angered by the notion that Biden contributed to "systemic racism." We could go on.
Yes, Houck certainly could -- hating Psaki is his job, after all. The Space Force "kerfuffle" is something Houck helped manufacture for no other reason to have a reason to attack Psaki. He's certainly never to to acknowledge Paski's humanity. And, of course, nobody is allowed to ever be critical of his man-crush.
Houck even managed to take some time away from his anti-Psaki rage to work in a tribute to his man-crush:
Though falsely treated by leftists as a carnival barker worse than even Jim Acosta, Fox's Peter Doocy showed himself to be a far better man than the actual characters like Acosta and Brian Karem that Trump spokespeople had to deal with when he told Goldstein that Psaki has run "a very low-blood-pressure briefing room."
If only we call could aspire to that level of civility in the face of nonsense.
Reminder: Spewing hatred at Acosta because he dared to ask questions of the Trump adminstration was Houck's main job in the Trump years.
Which brings us to a May 7 post, in which Houck complained that a Politico profile of Doocy wasn't man-crushy enough and spent too much time (which is to say, any time) likening him to Acosta:
Christopher Cadelago's feature "Is Fox's Peter Doocy Just Asking Questions — Or Trolling the White House" led with the build-up to President Biden's March 25 press conference and what ended up not being "a titanic collision between" Biden and Doocy as Biden chose not to call on him.

Cadelago described Doocy as someone who had "positioned himself as the chief foil to the administration in the press room" and developed a journalistic decorum that was "courteous, crisp, [and] oppositional" yet had offered "laconic yet spring-loaded questions" to Psaki in early briefings.

[...]

Adding that the news cycle "can be seen as a distillation, in a single reporter, of the challenge facing Fox in the Biden era," Cadelago said that Doocy has become "a smooth yet aggressive, social media-savvy correspondent who might feel like a fresh face on TV, yet is indisputably of, by and for Fox."

And in the world of the liberal media where Fox is the enemy, that's almost always going to be seen as a bad thing.

Cadelago even compared Doocy to carnival barker Jim Acosta of CNN, but said Doocy "rarely raises his voice" "jump[ed] into loud, heated sparing matches."

Later in the piece, he'd return to this implicit comparison, saying Doocy's "relentless jousting with the Biden administration has drawn more criticism from the left and even from some journalists at other networks" with complaints that "his approach" has been "intentionally provocative, in service of his own image and the network's, as Fox tries to make its oppositional stance clear."
No mention, of course, of Doocy pushing fake news by asking Psaki about a false story involving Kamala Harris' book purportedly being given to immigrant children (which the MRC later stealth-edited out of an item he wrote on the exchange). Houck grew increasingly perturbed that Doocy was likened to the despised Acosta, even bizarrely lashing out yet again at CNN's Oliver Darcy and descending again into Acosta Derangement Syndrome:
Conservative media Benedict Arnold and CNN media reporter Oliver Darcy was also predictably, insisting Doocy bears more resemblance to a divisive pundit than an actual journalist: "Doocy's line of questioning fits neatly into the messaging pushed by Fox's conservative newscasts and propagandistic primetime shows."

Again, Doocy's not someone who'd equate media criticism to death threats, meltdown over a period when briefs were audio-only or when he wasn't called on, stage a book signing, tweet a picture of himself looking at himself in the mirror, but that's just us.

In response, a Fox News spokesperson told NewsBusters: "If you want to predict what CNN will cover, watch FOX News — it's a good indicator of what their partisan activists will spend hours attempting to misconstrue for relevance and ratings."
Actually, it is pretty much just you, Curt -- the fact that you can't let your rage against Acosta go appears to be some sort of mental issue. How does Houck know for sure that Doocy's not like Acosta? That's just wacky man-crushing. And why did Houck think he needed to get a comment from Fox News to respond to the Politico piece? It's almost as if the MRC is part of Fox News' PR department.
Houck concluded with one last bit of man-crushing:
Cadelago closed with an important tidbit that Doocy has largely stopped tweeting to better focus on his job and, not surprisingly "disputes the characterization of his job as one big troll."

And perhaps most importantly, he makes clear that he's not looking for his next break or job (even though Psaki's tried and failed to help Resistance-types make Doocy look bad)[.]
Again, Houck doesn't know any of that. And when Doocy inevitably gets rewarded for his hostile questioning of Psaki with his own Fox News show, will he lash out at Doocy the way he did at Acosta when the same thing happened to him?
Posted by Terry K. at 8:36 PM EDT