The MRC's Latest Anti-Gay Targets: Plastic Bricks and Cereal
Topic: Media Research Center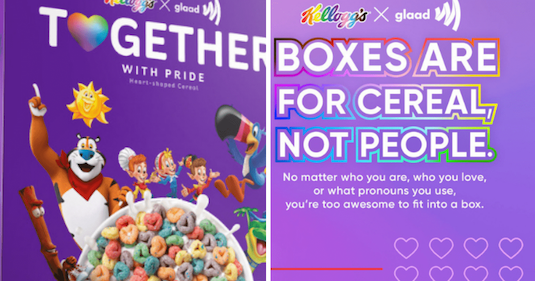 The Media Reserarch Center absolutely despises anyone who commits the offense of not being heterosexual. It has expanded that fight to inanimate objects like plastic bricks and cereals. Matt Philbin ranted in a May 20 post:
Having neutered the notoriously toxic masculinity of Mr. Potato Head, progressives are continuing their long march through the toy industry. Lefties intent on remaking the world in their image know their project depends on indoctrinating the young.

Thus, Lego has announced "'Everyone is Awesome,' its first LGBTQ-themed set," according to USA Today's Christine Fernando. Lego is launching the toys in "Pride Month" in June, which, as we know, is Ramadan for the leather speedo set.

Fernando explains, "The colors in the set are inspired by the rainbow flag, according to the statement." And they probably don't hurt when you step on them. But just the rainbow flag? Surely intersectionality demands the inclusion of other victim groups.
Yes, Philbin is mad at Legos, which should apparently always be considered heterosexual. On top of Philbin's bizarre sneering that anyone who's not heterosexual is part of "the leather speedo set," whatever that means, he went on to huff, "No doubt Lego will follow up with a Portland Public Library set where the purple drag queen can really strut his stuff. And with all those new letters in the alphabet soup, surely there will be many opportunities for follow-ons. (And, yes, the MRC also had a meltdown over the whole Mr. Potato Head thing.)
Alexa Moutevelis brought that same hateful, dismissive tone to a May 25 post raging at Kellogg's for offering an LGBTQ-themed cereal:
It's that time of year again - time for corporations to rainbow-up and start pandering to the LGBTQABCDEFG crew for "Pride Month" in June!

This year, Kellogg's is partnering with GLAAD for a new "Together With Pride" cereal, which has already hit stores. This is an update from past gay cereal campaigns, which were only offered online. Now can you get woke messaging in your face in the grocery aisle!

The cereal is described as "berry-flavored, rainbow hearts dusted with edible glitter." Gotta admit, that's the gayest cereal I've ever heard of - way to play to stereotypes!

The box has all your favorite Kellogg's cereal characters rallying around the bowl, including Tony the Tiger, Toucan Sam, and Snap, Crackle and Pop. A little Frosted Mini Wheat is pictured holding a rainbow flag with a triangle on it, which I had to look up. Apparently, the rainbow flag alone was not inclusive enough and they had to add elements "to represent marginalised LGBT communities of colour" and transgenders.

[...]

Yeah, that's what everyone wants in their breakfast – cereal with a side of social justice activism. Just another way they force feed their propaganda down people's throats.
As if the MRC's anti-LGBT hate isn't propgandizing its readers to hate people different from them.
This isn't even Moutevelis' first time raging against cereal. In response to a similar 2019 campaign by Kellogg's, she huffed, "Have you ever eaten Froot Loops and thought, 'This cereal isn't gay enough?' Do you seek a safe space to eat your Rice Krispies? Are you concerned that your Corn Flakes aren't sufficiently woke? Well, now Kellogg's has the solution!" She spat in her conclusion: "Equality and inclusion in a breakfast food – it's social justice cereal! I think I'm gonna lose my breakfast."
Moutevelis doesn't seem to realize that it's her toxic hate -- inculcated by the MRC, which pays her well to spew it -- that's making her ill.
Posted by Terry K. at 12:54 PM EDT