The MRC's Psaki-Bashing, Doocy-Fluffing Parade Marches On
Media Research Center writer Curtis Houck spent the month of March sticking to his template: trashing White House press secretary Jen Psaki while cheering Fox News' Peter Doocy and other hostile right-wing reporters.
By Terry Krepel
Posted 7/15/2021
---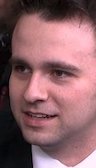 Curtis Houck
Media Research Center writer and NewsBusters managing editor Curtis Houck's template for reviewing White House press secretary Jen Psaki's briefings is a rigid one, as he demonstrated in the first month of the Biden administration: Psaki is the enemy, invariably evil, rude and deceptive, while the Fox News reporters -- especially Steve Doocy -- and other right-wing reporters asking her hostile questions are invariably heroes.

Houck has continued to enforce that template without deviation. For the March 5 briefing, Houck didn't have Doocy to man-crush on, but another Fox News reporter was the hero with Psaki, of course, as the pinata:
With the border crisis only continuing to grow, Friday's White House press briefing featured multiple reporters pressuring Press Secretary Jen Psaki for answers on detention facilities, the number of illegal immigrants crossing the border, and whether the Biden administration has decided if it'll allow an unlimited number of people to come across the U.S/Mexico border.

Fox News White House correspondent Kristin Fisher led the way, calmly but aggressively hammering at Psaki for answers on basic statistics about the crisis and, on a different topic, the nursing home and sexual harassment scandals facing White House ally and Governor Andrew Cuomo (D-NY).
Fortunately for Houck, he was able to crush on Doocy some more on March 10:
Wednesday's White House press briefing served as another failure by the Biden administration to come clean on the illegal immigration crisis at the U.S./Mexico border and was bolstered by two rounds of questioning from Fox News White House correspondent Peter Doocy. During one exchange, Press Secretary Jen Psaki scoffed at Doocy's concerns, prompting him to informing here that "it's not funny."
But rather than do a straightfoward presentation of the discussion that led to that as less biased outlets would, Houck buried most of it in a transcript and pretended to read Psaki's mind by declaring that she "made clear she was already tired of Doocy" while "Doocy waited her out," then accusing Psaki of "misdirection" and declaring that "Psaki became even more annoyed, turning her head and even chuckling at Doocy's question, calling it 'a little bit of mixing different circumstances.' Normally calm, Doocy's face became red with disgust, telling Psaki: 'It's not funny.'"
The next day, Houck was in full man-crush mode -- and full Psaki hostility mode -- gushing under the headline "Peter Doocy Wipes the Floor With WH, Schools Jen Psaki on COVID at the Border":
Fox News White House correspondent Peter Doocy was firing on all cylinders on Thursday afternoon, delivering a thorough evisceration of White House Press Secretary Jen Psaki over the Biden administration's lax immigration policies, their double standard requiring COVID testing for international fliers but not for illegal immigrants, and the regime's affinity for green jobs.

Doocy started by quoting Mexican President Andrés Manuel López Obrador's insistence that illegal immigrants see Biden as "the migrant President"and this "flow" of people needed to "be tackled" and asking whether "the White House take[s] that as a compliment."

Seemingly under the impression that Doocy was misleading her, Psaki asked for more context, but Doocy promptly read the full, unambiguous quote.

Psaki spun her usual web about how "the majority of people who come to our border will be turned away" despite the fact that they'll be ferried out across the country as part of their "human approach"to children.

[...]

Two words to describe Psaki's answers ever since this issue began, dear readers: Word salad.

Actually, "word salad" works for just about everything she's said from the podium when it comes to answering tough questions.
Houck's beloved Kayleigh McEnany frequently played word games with reporters, but he never called her out on it like he does with Psaki.
Houck gushed some more on March 13 that "Doocy again went toe-to-toe with Press Secretary Jen Psaki on the border crisis and school reopenings, but in a sign that patience might be wearing thin with some liberal journalists, Doocy had assistance from multiple reports on the border as well as hard-hitting questions of their own on the coronavirus and Governor Andrew Cuomo (D-NY)." And he served up more Psaki-sneering, whining that "Psaki took the easy way out, refusing to deviate one iota from her previous talking points." Again, the same thing could be said of his beloved McEnany.
On March 15, Houck gleefully wrote about a purportedly "struggling" and "visibly peeved" Psaki:
Amid the constant buzzing of her cellphone on the podium, White House Press Secretary Jen Psaki faced an onslaught of immigration questions on Monday from Fox News's Peter Doocy and some liberal reporters about the Biden administration's denial of the border crisis.

And in the case of Doocy's colleagues, they brought the heat by grilling Psaki over the White House's shameful defense of Governor Andrew Cuomo (D-NY) in refusing to call for his resignation and/or condemn his handling of nursing homes.
Related articles on ConWebWatch:
Houck went on to complain that Psaki wasn't "admitting that they have an open borders policy." That would be because there isn't one -- but Houck gets paid to insist that there is.

Houck also gets paid to call it the "Biden border crisis," and on May 17, Houck found another fox News reporter to gush over for hostile questioning of Psaki, under the snotty headline "JEEZ: WH's Psaki Gets Personal in Battle with Fox's Kristin Fisher Over Biden's Border Crisis":
With another day in the books in which the Biden border crisis continued to spin out of control, White House Press Secretary Jen Psaki found herself Wednesday under the gun from multiple reporters at the daily briefing, including Fox News's Kristin Fisher and questions about journalists being denied ride-alongs and whether there's a cap for illegal immigrant children being allowed into the United States.

Instead of responding to them, Psaki went personal and attacked Fisher on the latter question and asked her whether she would want to send ten-year-olds back to Latin America on another dangerous journey.

[...]

Instead of admitting there won't be a cap, Psaki sought to box Fisher in by questioning her humanity: "Should we send some kids who are 10 back at a certain point? Is that what you're asking me?"

Whereas Jim Acosta would have lost his mind, Fisher calmly rebutted Psaki and re-asked the question.
We don't recall Houck ever complaining when his previous crush, McEnany, went "personal" on reporters.
On March 18, Houck sadly didn't have a Fox News reporter to root for. But he found another right-wing hurler to gush over:
With no one from Fox News in the White House Briefing Room, it fell to others on Thursday to pick up the slack. Along the way, Press Secretary Jen Psaki engaged in quite the Freudian slip that there was indeed a "crisis on the border," Real Clear Politics' Philip Wegmann asked tough questions on masks and religious freedom, and one reporter grossly tied attacks on Asian Americans to criticizing communist China.

CBS White House correspondent Ed O'Keefe had asked Psaki about whether the U.S. sending AstraZenca vaccines to Mexico had any strings attached in terms of border assistance when Psaki replied that there weren't any preconditions of vaccines in exchange for help "in dealing with the crisis on the border."

Psaki's slip went unaddressed for almost 15 minutes until Wegmann took notice:"When you were talking a moment about how to go about diplomatic negotiations between the United States and Mexico, you said 'crisis on the border.'"

Wegmann asked if that "reflect[ed] any change in the administration's view of things," but Psaki stated three times in a row that it didn't and made clear their definition for the border crisis would instead be called a challenge.
Houck will never tell you this, but Wegmann and Real Clear Politics have a right-wing bias.
Houck slavishly adhered to his Psaki-trashing, Doocy-fluffing template yet again in a March 22 review headlined "WH's Jen Psaki Gets Destroyed by Doocy, Colleagues on Biden's Border Crisis":
Continuing her streak of awful, no good, very bad days at the White House podium, Press Secretary Jen Psaki crashed and burned on Monday as she tried to explain away the Biden administration's crisis at the border, responding to probing questions from Fox's Peter Doocy and a whole cast of colleagues with bald-faced lies about the border being secure and how Facebook and Instagram ads will help deter illegal immigration.
Houck went on to gush about how his man-crush Doocy "produced some receipts" and was "upping the ante," while Psaki merely "stuck to her talking points."
On March 26, Houck elevated Doocy's whining he didn't get to ask President Biden a question at his press conference the day before:
A day after he was left off the pre-selected list of reporters called on at President Biden's first press conference, Fox News Channel White House correspondent Peter Doocy came locked and loaded for Friday's regular briefing, blasting Press Secretary Jen Psaki over Biden's past support for the Senate filibuster, the administration's misleading claims about the border, and the administration's clear insulating of the President from Fox.

Doocy cut right to the chase as the fourth reporter called on, noting that Biden has "said he thinks the filibuster is a legacy of the Jim Crow era" and then asking whether he thought so in 2005:

[...]

Skipping ahead to the last exchange, Doocy noted that Fox has realized going back to "the end of the campaign" that "any time that the President has an event where he was given a list of reporters to call on, Fox is the only member of the five network TV pool that has never been on the list in front of the President."

Doocy dropped the hammer with this question: "And I'm just curious, if that is an official administration policy."
Houck didn't have a Doocy to drool over on March 29, so he lashed out at the "liberal media" he's well-paid to despise and spewed hate at a public health official trying to impart facts to the American people:
Hours after CDC Director Dr. Michelle Walensky was on the verge of tears warning of an "impending doom" of increasing coronavirus cases, Associated Press correspondent and MSNBC contributor Jonathan Lemire took her marching orders Monday afternoon to President Biden and White House Press Secretary Jen Psaki and pressing them to urge states to halt reopening efforts.

For a liberal media and public health community that's realizing their death grip on the American people was slipping away, it seemed as though they've found their new narrative to keep an increasingly vaccinated country from returning to pre-pandemic life.
Again: Houck gets paid to hate -- and he also gets paid not to care about the hundreds of thousands of Americans who died of coronavirus or the millions more who could be saved with responsible public health behavior, since none of that advances right-wing political narratives.
The latest from