MRC Censors The Truth About Trump's Latest Social Media Adventures
Topic: Media Research Center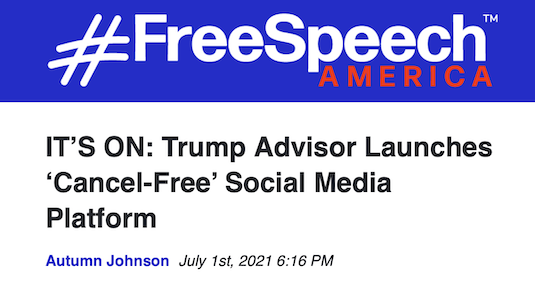 When Donald Trump started his website "From The Desk of Donald J. Trump" tweetable blog, the Media Research Center was quite excited about it -- if only because it could reboot some of its victimization narratives. A May 7 post by Alec Schemmel complained:
Twitter is now even restricting statements made by former President Donald Trump from being posted on its platform.

The social media giant has reportedly suspended accounts that have been sharing statements from Trump, which he has been releasing from his new website, From the Desk Of Donald J. Trump. A Twitter spokesperson reportedly told NBC News: "As stated in our ban evasion policy, we'll take enforcement action on accounts whose apparent intent is to replace or promote content affiliated with a suspended account."

[...]

Trump's new website, which was launched Tuesday, acts as a megaphone for the former president. Trump has been releasing his thoughts in short press release form or Twitter-like posts on the site which can then be shared by anyone to social media.
It turned out, however, that few people were particularly interested in listening to this particular megaphone: traffic to his website was miniscule compared to his pre-ban years. When Trump pulled the plug on his website roughly a month later, a June 2 post by Kayla Sargent sought to put such a pro-Trump spin on the situation that her post may has well come from the Trump Organization itself:
Jason Miller, senior advisor to former President Donald Trump, signaled that Trump may soon join another platform. "Stay tuned!" he tweeted.

Trump's blog, "From the Desk of Donald J. Trump" may soon be replaced. Former Nevada GOP Chairwoman Amy Tarkanian tweeted: "'The Desk of Donald J. Trump' section of President Trump's website has been removed and will not be returning per @JasonMillerinDC. Perhaps this is a precursor to him joining another social media platform?" Miller retweeted her post, saying, "Yes, actually, it is. Stay tuned!"

Miller also reportedly told CNBC that the platform "will not be returning," and that it "was just auxiliary to the broader efforts we have and are working on." He added that he was "[h]oping to have more information on the broader efforts soon, but I do not have a precise awareness of timing," according to CNBC.
Sargent made no mention of the abysmal traffic that presumably led to the decision to pull the plug. Instead, she repeated the lie that Trump was banned from social media "after the Jan. 6 riot at the U.S. Capitol in which the former president called for 'peace.'"
When the Trump camp launched a new social media platform in early July, Autumn Johnson was quick to gush over it:
Former Trump advisor Jason Miller will launch a new social media platform designed to "declare independence" from Big Tech platforms like Facebook, Instagram, and Twitter.

"GETTR," which Miller says evolved from "getting together," will launch on July 4. However, the platform's app is already in the App Stores.

Miller says the new platform will be open to users worldwide.

"Let's get together, we're talking about a sense of community," Miller told Fox News. "We think it will ultimately be a global platform—not just conservatives in the U.S. We want people from all political stripes to join the platform."

"This ties in with Independence Day," Miller added. "Independent from social media monopolies, independent from cancel culture; embracing free speech—our launch on Sunday is very much intentional."

"We believe there needs to be a new social media platform that really defends free speech, and one that doesn't de-platform for political beliefs," he continued. "This is a challenge to social media monopolies."
Because the MRC is much more eager to do free(?) PR for Trump than report the truth, it won't tell you the secret behind the app -- it was developed by a company owned by Chinese billionaire Guo Wengui, best known these days for being the benefactor of ex-Trump adviser Steve Bannon -- or that its launch was completely amateurish: typos in the app page, filled with bugs and security holes, and allowed a Hitler account. GETTR got rid of the worst of those accounts, which tells us that it may not be as pro-"free speech" as it and MRC want you to believe.
Again, we see that at the MRC, the narrative is much more important than the truth.
Posted by Terry K. at 9:56 PM EDT
Updated: Monday, July 26, 2021 10:12 PM EDT