MRC Endorses Incomplete Report Because It Claims To Exonerate Trump
Topic: Media Research Center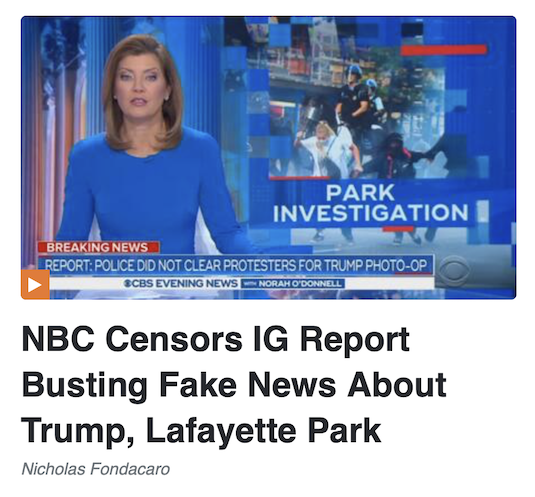 Nicholas Fondacaro tried to push the ol' "fake news" narrative on a new report in a June 9 post:
On Wednesday, NBC Nightly News anchor Lester Holt flaunted just how much he felt "fairness is overrated," when he had his program censor an Inspector General report that busted a fake news narrative. About a year ago, the liberal media accused then-President Trump of having Lafayette Park cleared of Black Lives Matter protesters for a photo-op in front of St. John's Church.

CBS Evening News calling it "vindication for the Trump administration." But NBC was more interested in trying to get viewers deals for hot summer sales on bathing suits, lipstick, and other frivolous items. The network was also fascinated with a group of elephants migrating across China.
Fondacaro went on to claim that "the report had corroborated what Attorney General Bill Barr was saying at the time in defense of the action" and complained that a reporter "didn't want to give the former President credit for what he was saying."
First, Fondacaro is taking Holt's statement out of context. Second, he has forgotten that Trump has been caught in so many lies there's no reason to take anything he says at face value. The original story was not "fake news" because 1) the timeline made it plausible, 2) no proof was offered that anyone in the media knew that story was false but reported it anyway, 3) Trump is a liar whose word can't be trusted, and 4) the Trump White House offered no credible evidence to disprove the story.
Fondadcaro is also giving way too much credit to that report because it can be wedged into the MRC's pro-Trump, anti-media narrative, ignoring the investigation's many holes. As Washington Post columnist Radley Balko pointed out, the inspector general didn't interview Trump, Barr or anyone else from the White House, the journalists and protesters who were there, or the Secret Service or any of the law enforcement agencies involved that day (let alone try to answer such questions as why personnel from the Bureau of Prisons were there). The report only looked into why Lafayette Square was cleared, not how.There's also plenty of evidence about Trump's authoritarian nature that supports the narrative that the square was cleared for his photo-op.
Despite all those reasons to treat the IG's report with skepticism, Brad Wilmouth still complained on June 14 that people were being skeptical:
CNN journalists are so bitten by Trump Derangement Syndrome that the release of an inspector general's report disproving the liberal media's anti-Trump narrative on the clearing of Lafayette Park has had them struggling to salvage their anti-Trump theories.

After last week's report by the U.S. Department of the Interior found tha President Donald Trump did not order that protesters be forcibly removed so he could stage a photo-op last June, CNN's Jim Acosta joined Thursday's New Day to react with skepticism, with Acosta suggesting that the inspector general was trying to get a job working for Trump.
Meanwhile, Wilmouth sounds like he's trying to get a job working for Trump by attempting to justify ther square-clearling crackdown by declaring that "a large number of officers were injured in the Lafayette Park area in the first week of protests, which was more than the number injured in the January 6 Capitol riots." Wilmouth didn't mention that Lafayette Square protesters got nowhere near the White House , while the Jan. 6 rioters actually broke into the Capitol.
As we see yet again, facts don't matter at the MRC -- only the narrative does.
Posted by Terry K. at 9:38 PM EDT