How Is The MRC Freaking Out About Transgender People Now?
Topic: Media Research Center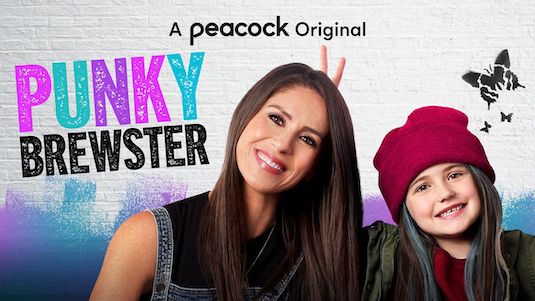 The last time we checked in on the Media Research Center's ongoing transgender freakout, it was losing it over fictional transgender characters on TV and "Blue's Clues" using flags that offended it. But the MRC is committed to the freakout, and so it continues.
MRC executive Tim Graham devoted his March 11 column to complaining that "Our dominant media's celebration of transgenderism must inevitably include the distorted sounds of our tastemakers becoming transfixed by trans fiction," complaining that the new book "Detransition, Baby" was "subverting the 'dominant narrative' of the gender binary." He was further upset that the book is being developed into a TV series, huffing, "This is another reason why a new Gallup poll finds almost 16 percent of Generation Z (college-age) Americans now identify as LGBT.
Elise Ehrhard was unhappy with the "Punky Brewster" reboot because it doesbn't hate LGBT people as much as she does:
Remember Sunday nights in the 1980s when you turned on the tv to watch little Punky Brewster play in her treehouse with her friends? Did you ever think to yourself, "I hope they reboot this show one day with Punky as a New Age divorcée who has a gender-dysphoric kid. And they better make sure her best friend Cherie is a lesbian who gets engaged to an independent feminist lawyer." Well, on Feb. 25, NBC's Peacock streaming service delivered on that woke fantasy.

[...]

Punky's childhood best friend from the original show, Cherie (Cherie Johnson), is now the token lesbian character required on all television programming. And naturally one of Punky's kids, Daniel (Oliver De Los Santos), may potentially be gender dysphoric. Her daughter and her friends dress the boy up in a sarong and have him strut around like in a fashion show. Nobody thinks it may not be healthy for the girls to be treating him like a play doll instead of a growing human being.
Ehrhard returned to declare she wouldn't use Pantene shampoo anymore (though she offered no proof she hever did) because it did a commerical featuring "LGBTQ propaganda":
Time to find a new shampoo brand. The hair care company Pantene is now pushing LGBTQ propaganda with its products. The brand that became famous for a classic 1980s commercial featuring an attractive woman looking into the camera and saying, "Don't hate me because I'm beautiful," has now hopped on the trans agenda that erases women altogether to promote "transgender visibility."

Pantene's new commercial features lesbian parents Ashley and Ellie and their gender dysphoric child Sawyer. Sawyer is a biological boy who now says he is a girl.

[...]

Pantene has a series of ads on YouTube promoting the agenda of Gay, Inc. and transgenderism, in particular, under the hashtag #HairHasNoGender. Pantene is owned by Proctor and Gamble, the same company that created the insulting 2019 "We Believe" ad which portrayed men as inherently toxic. Procter and Gamble saw the value of the Gillette brand tumble after that.

Hopefully, Pantene products will now face the same financial fate as Gillette. Refusing to buy their products will send the company the message that healthy adults do not think child abuse is beautiful.
Ehrhard went on to rant that the parents helping the child with identity anmounted to "normalization of child abuse." Also: The CNBC article Ehrhard cited to blame a reduction in "the value of the Gillette brand" on that one ad doesn't mention the ad at all; instead, it cites increased competition that has disrupted Gillette's traditional business model and the fact that fewer men are shaving.
Tierin-Rose Mandelburg chimed in to grouse that even the "Star Wars" universe isn't exempt from not hating transgender people:
Unfortunately, this isn't an April Fools joke. Star Wars: The High Republic has once again joined the alphabet community.

On Wednesday March 31, the Star Wars social accounts released the exclusive cover for High Republic #6. In "honor" of Trans Day of Visibility, a made up holiday to bring awareness to the deeply confused and attention-starved, Star Wars shoved politics down fans' throats once again.

The woke is strong with the brand. The cover featured Jedi characters, Terec and Ceret, who are "non-binary."
She later sneered: "Someone call up Star Wars and ask why these non-binary characters aren't holding rainbow lightsabers! Where are the SJWs when we need them!?" Sounds like Mandelburg is the one who's feeling starved for attention by needing to spew her anti-trans hate.
Posted by Terry K. at 9:28 PM EDT