CNS Politicizes Easter To Attack Biden
Topic: CNSNews.com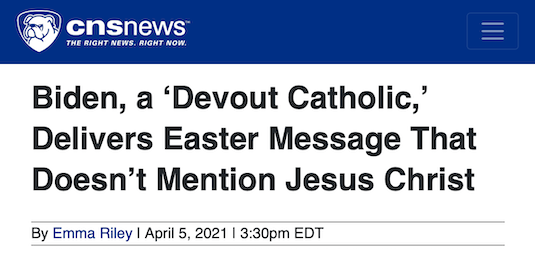 How much does CNSNews.com hate Joe Biden? It (and the uber-Catholics who run it) turned Easter into a cudgel to attack him.
An April 1 column by Tom Kilgannon of the right-wing Freedom Alliance carried the headline Cafeteria Catholic Biden Should Not Go to Communion at Easter Mass," going on to declare: "Holy Week is the most meaningful time of the year for Catholics. It is when Jesus gave us the sacrament of the Eucharist. He died for our sins, and He rose from the dead so that we may have eternal life. This is the Church Joe Biden loves but for which he is causing problems. He, and he alone, has the ability and responsibility to correct the situation."
This was followed the next day by a rant from dishonest Catholic Bill Donohue, who sneered: "As we approach Easter, the bishops, as well as millions of practicing Catholics, are not going to have their concerns about Biden allayed by photos of him clinging to his rosary beads. He cannot at once declare himself to be a "devout Catholic" while at the same time supporting abortion-on-demand, gay marriage, sex transitioning for minors, and the war on religious liberty. It's time for President Biden to stop living a lie." This from a guy who has told more than his share of lies, so maybe he should address that first before accusing others.
On April 5, CNS served up an anonymously written article noting the Bidens' Easter message that "cited the Gospel of John" and quoted the message as noting "the sentiments of Pope Francis, who said that getting vaccinated is a moral obligation." This was surprisingly free of editorial commentary, but that was rectifiedlater that day by an article from Emma Riley, who found something to complain about anyway:
President Joe Biden and first lady Jill Biden shared an Easter video message on Sunday that talked a lot about COVID and a "moral obligation" to get vaccinated, but did not mention the words Jesus Christ.

Easter is, as the Encyclopedia Britannica explains, the "principal festival of the Christian church, which celebrates the Resurrection of Jesus Christ on the third day after His Crucifixion." Easter is celebrated every year by the global Christian population, estimated at 2.54 billion people.
CNS even got mad at another Democrat for wiashing people a happy Easter, as another April 5 article demonstrated:
Rep. Ilhan Omar (D.-Minn.) sent out a tweet on Sunday wishing: "Happy Easter to all who are celebrating it around the world."

She then sent out another tweet that said: "It's Sunday and I should have slept in but I am gonna wake myself up for this interview, kinda smile."

The interview Omar was referring to was with Jake Tapper, host of CNN's State of the Union.

At both the beginning and end of this Easter Sunday interview, as transcribed by CNN, Tapper wished Omar an "early" happy Ramadan.
Apparently, only right-wing Christians are allowed to wish other Christians a happy Easter as far as CNS is concerned.
Posted by Terry K. at 11:27 AM EDT