MRC Embraced Lame Hit Piece On Harris
Topic: Media Research Center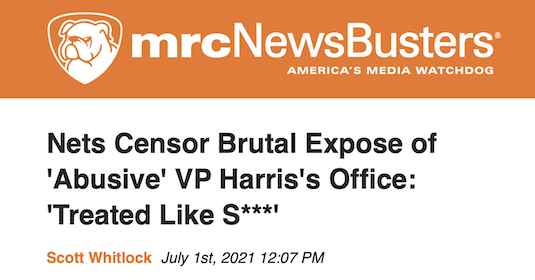 The Media Research Center's Scott Whitlock tried his best to sell a hit piece on Kamala Harris in a July 1 post:
During the entire Trump administration we saw journalists leap on any anonymous leak or gossip about infighting inside the administration. Yet, when Politico on Wednesday unleashed a damning 2200 word expose on Kamala Harris and the alleged toxic, "abusive" environment inside the Vice President's office, ABC, CBS and NBC on Wednesday night and Thursday morning censored the claim that working for the VP is a "place where people feel treated like s---."

Despite a total of 90 minutes on the evening newscasts and six hours combined on ABC's Good Morning America, CBS This Morning and NBC's Today, the networks had no interest. It's not as though there wasn't time.

Here's some of the fluff coverage that DID make it: CBS devoted five minutes of air time to a popular podcast. GMA showcased the best protection against bug bites and NBC's Today spent almost seven minutes previewing holiday travel options for the Fourth of July.

The Politico piece, written by Christopher Cadelago, Daniel Lippman and Eugene Daniels contained much of the same anonymous quotes that reporters loved during the Trump Era. This nameless individual complained about "feeling like shit."

[...]

The Politico writers gossiped, "Harris' team is experiencing low morale, porous lines of communication and diminished trust among aides and senior officials." They touted the "22 current and former vice presidential aides" who talked for the story. Yet, unlike with Republican political leaders, this story has so far drawn no interest from fellow reporters.

[...]

The corrupt politicians posing as journalists at ABC, CBS and NBC are doing their best to bury the dysfunction, incompetence and unhappiness swirling around the Vice President.
Funny how Whitlock touts the Politico piece as "gossip," despite having dismissed people writing about the inner workings of the Trump administration as gossip-mongers. And by his own rule, the Politico story was unworthy of attention by Whitlock and the MRCbecause the sources were anonymous -- none of those "22 current and former vice presidential aides" spoke on the record. But then, ther MRC has always been hypocritical about anonymous sources -- they're not credible when criticizing a Republican but utterly unimpeachable when criticizing a Democrat.
Whitlock's biggest problem, however, is that there's really no there there. As Mediaite's Tommy Christopher noted in citing observers who read the Politico piece, the harshest accusations come down to Harris being hard to get access to -- as if limited access to a vice president is unexpected or even a bad thing -- and that some staffers were not in the loop on one particular trip by Harris -- again, not that big of a deal.
Nevertheless, the MRC thought it had a winner here. Another post the same day by Kristine Marsh complained that the hosts of "The View" accurately noted how small a story it actually was:
While journalists ignored the brutal expose, The View co-hosts on Thursday leapt to Kamala Harris's defense, after current and former aides complained about an abusive workplace to Politico.

Despite cheering on the "whistleblowers" in the Trump White House, the liberal hosts completely trashed the anonymous complaints from twenty two of Harris's current and former staff saying things like they felt they were "treated like s---."

Moderator Whoopi Goldberg repeatedly downplayed the report as petty complaints. She asked co-host Sunny Hostin, "Is it possible that this is the -- the functioning of politics or is it just, you know, come on and get with the program young folks? Is it me being an old lady going, 'get off my lawn?'"

[...]

Meghan McCain agreed with Hostin that there was probably some "gender bias." She brutally mocked whoever the anonymous leakers were for "running to Politico like a little bitch." At least McCain is consistent in her hatred for leakers in both Republican and Democrat administrations, unlike her co-hosts.

Spurred on by the common consensus, Goldberg got more bold in mocking the anonymous staffers. She asked Joy Behar, "So Joy, is it time for us to say, 'hey, grow a pair?'"

As you might expect, Behar had the most ridiculous response to the expose. She suggested it was a set up from the right-wing, who apparently attack Harris way more than they attack Biden because the president "looks like their base." Clearly she doesn't read conservative media outlets very often.
Marsh didn't mention the MRC's double standard on anonymous sources.
This story even led to even more man-crushing from Curtis Houck on his favorite Fox News reporter. He used a a July 2 post to gush that "Fox's Peter Doocy came prepared Friday afternoon" to tout "negative stories about Vice President Kamala Harris's staff" at Jen Psaki's White House press briefing:
Rewind to the beginning of Doocy's spot and he led off with a series of stories in establishment, liberal media publications about the reportedly disorganized, haphazard, and toxic work environment associated with the Vice President.

Psaki, who worked at CNN prior to joining the Biden team, refused to engage because "I try not to speak to or engage on anonymous reports or anonymous sources" as Harris "has a challenging job, a hard job, and she has a great supportive team of people around her."
Houck just hates it when Psaki won't engage with an obviously hostile Doocy. And he offered no evidence to back up his claim that Politico is as "liberal media publication."
And that was the end of the MRC trying to exploit that story, as we could find no other reference to it. Apparently, it finally realized how lame it actually was.
Posted by Terry K. at 8:58 PM EDT
Updated: Thursday, July 29, 2021 9:00 PM EDT