CNS Ramps Up Word Police Action Against Biden
Topic: CNSNews.com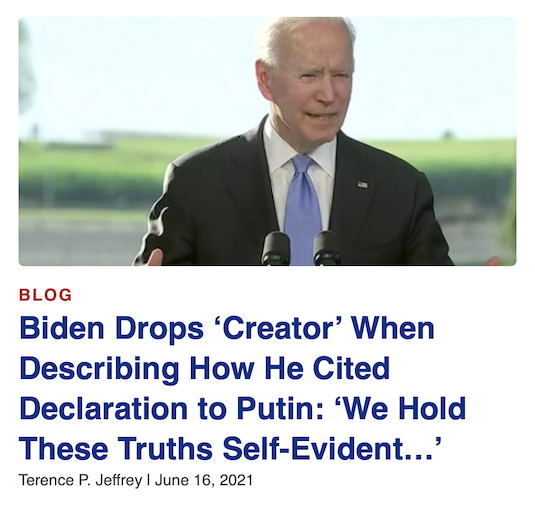 CNSNews.com loves to play word police with President Biden, busting him for omitting selected words from his speeches. No less than editor Terry Jeffrey serves as chief of word police in a June 16 article:
At a press conference today after his meeting with Russian President Vladimir Putin in Geneva, Switzerland, President Joe Biden said he explained America's commitment to human rights to Putin while referencing the "idea" articulated in the Declaration of Independence.

But while referencing the language and idea of the Declaration at his press conference, Biden left out any reference to the Creator.

The Declaration of Independence says: "We hold these truths to be self-evident, that all men are created equal, that they are endowed by their Creator with certain unalienable Rights, that among these are Life, Liberty and the pursuit of Happiness."

"We don't derive our rights from the government. We possess them because we are born, period. And we yield them to a government," Biden said at one point in his description of his discussion with Putin.
Actually, according to the transcript Jeffrey attached to his article, Biden acquitted himself quite well in explaining the American system of government to Putin and pointing out U.S. concerns about Alexei Navalny (whom Jeffrey weirdly described only as someone "whom the Congressional Research Service says is an imprisoned Russian 'anti-corruption activist'").
But Jeffrey doesn't care about that, as he would if Trump had said it. CNS has an anti-Biden agenda, and Biden must always be targeted with negative coverage -- even if he has to nitpick over a single missing word.
This is CNS -- a partisan talking-point factory, not news.
Posted by Terry K. at 1:20 AM EDT
Updated: Friday, July 16, 2021 9:00 AM EDT