WND Is Still Pushing Book It Published From White Nationalist Author
Topic: WorldNetDaily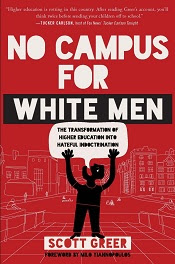 We've documented WorldNetDaily's penchant for embracing white nationalism -- one example of which was Scott Greer, who wrote a WND-published book, "No Campus for White Men," which complained about "diversity, victimization and identity politics on today's college campuses." At the same time Greer was writing that book, he was also penning anti-Semitic and white nationalist articles under a pseudonym for the Radix Journal, published by white supremacist leader Richard Spencer. WND has never told its readers about that.
Either WND needs the money or has a bunch of Greer books gathering dust, because it has spent the past several months pushing the book at a deep discount.
In September, WND started sending out messages to its mailing list promoting "No Campus for White Men" for just $4.95. The first came out on Sept. 20, and it's done so about once a month since then. It's a recycled pitch; the ad copy still describes him as "an editor and columnist at the Daily Caller" though he resigned that job when his white nationalist proclivities became public in 2018. Needless to say, there's no mention of any of that in the ad copy.
That's not the only place where Greer's book is getting a renewed push. The March issue of WND's sparsely read Whistlelower magazine carries the theme "Brainwashing America's Next Generation," and if you subscribe to the magazine, WND will send you "a very special free gift": a copy of "No Campus for White Men."WND has also sent out several emails promoting the Whistleblower issue and offer, whcih is a carbon copy of the offer on the website.
It repeats much of the previous ad copy, including the ridiculous claim that "College campuses in America today have descended so far into Marxist indoctrination and bizarre political correctness that they are commonly referred to as 'small ivy-covered North Koreas.'" Who says that? Nobody we've ever read.
The article promoting the offer adds, "This special free offer will end without notice and is good in the U.S. only." How long will that offer last after more people are made aware of who Greer is and that WND published him?
Posted by Terry K. at 12:03 AM EDT