WND Columnist Touts Fake Bonhoeffer Quote
Topic: WorldNetDaily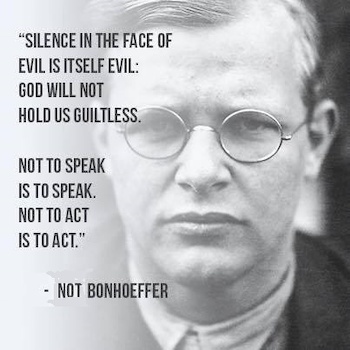 In his March 2 WorldNetDaily column, Larry Tomczak touted how "a significant leadership gathering takes place at what was once Heritage Village USA to discern what God is saying so that we as the people of God can stay strong and on the right track." He then served up what he considered to be key "nuggets" from the confab, which included a lot of the usual right-wing Christian posturing. Tomczak's final point was this:
10. About 98% of the time I was an avid listener but added some comments better encapsulated by the words of another leader who fearlessly addressed the threat of Hitler's democratic socialism. It cost him his life. May none of us shrink back in the time of testing but may we all look to the Lord with renewed devotion, meditate on His Word, share the gospel and engage culturally in a winsome and courageous way.

Here's the deal: "Silence in the face of evil is itself evil. God will not hold us guiltless. Not to speak is to speak. Not to act is to act." – Dietrich Bonhoeffer
Just one problem with that quote: there's no evidence Bonhoeffer ever said or wrote it. As Warren Throckmorton has documented, the quote appears in none of Bonhoeffer's works, despite Bonhoeffer biographer Eric Metaxas uncritically promoting the quote.
Will there be a correction? Probably not -- the fake quote serves both Tomczak and WND.
Posted by Terry K. at 5:52 PM EDT