MRC's Embellishes Google 'Blacklist' Narrative
Topic: Media Research Center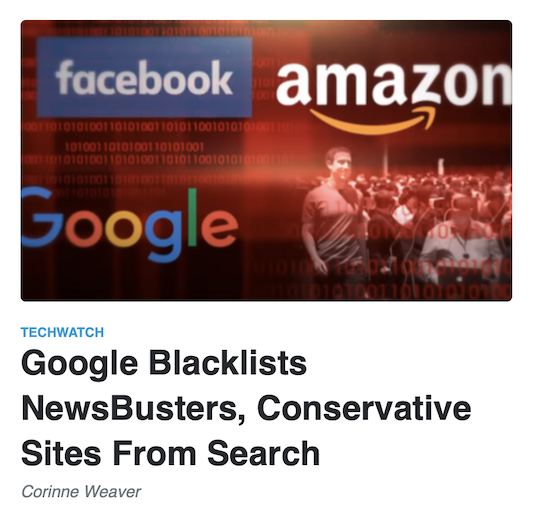 The right-wing victimization campaign at the Media Research Center over social media's purported "censoring" of conservatives -- it that was really happening, would the MRC have to include right-wing extremists in their count? -- has been so intense that we forgot to point out the MRC's own attempt at claiming victimization. Corinne Weaver complained in a July 21 post:
Google users wouldn't know that conservative websites like NewsBusters, The Daily Wire, and Breitbart exist if they consulted an organic search result on the platform today.

The company has seemingly blacklisted numerous conservative websites like NewsBusters, MRCTV, CNSNews, Free Beacon, Breitbart, The Resurgent, Twitchy, RedState, PJ Media, Judicial Watch, The Blaze, Townhall, Project Veritas, LifeNews, PragerU, and The Daily Wire. None of these websites show up in an organic search on Google. While more than 3.5 billion Google searches are performed per day, certain conservative news sites appear prohibited from appearing in the general results.

Mediaite reporter Charlie Nash noted that Google had "removed several conservative websites from search results." These sites included RedState, Breitbart, Daily Caller, and Human Events.
Weaver is so dedicated to pushing the MRC's narrative that she censored the fact that Nash also noted some left-leaning sites were also suffereing the same Google search issues.
But since she's paid to push a narrative and not tell the full truth, Weaver rushed straight to conspiracy mode, huffing that "It seems as if Google has a new blacklist from organic results." MRC chief Brent Bozell ranted on Twitter, "We want official answers now! Congress needs to demand that Google tell why they temporarily blacklisted conservative sites. We know why it happened. And it's 100% unacceptable." Like his subordinate, Bozell too censored the fact that left-leaning sites were also "blacklisted."
For all this conspiracy-mongering, the actual cause appears to have been much more benign: a technical error. But again, narrative trumps facts at the MRC; Alexander Hall dismissed the cause as "Lame!": "Talk about living down to expectations. Google gave a measly mea culpa after several conservative websites were delisted from its general search and appeared to have been blacklisted."
Hall went on to mislead his readers by claiming that "Liberal sites such as Newsweek, The Daily Beast, The Washington Post, HuffPost, and Teen Vogue, had no issue. Their websites showed up on Google organic search." As noted above, left-leaning sites were affected; Hall just cherry-picked ones that weren't. Hall also dug up another disgruntled ex-Google employee to push the conspiracy narrative:
Google may have a 'secret blacklist' of conservative news outlets, former Google engineer Mike Wacker claimed.

He suggested to Mediaite, "It appears to have revealed the existence of another blacklist that disproportionately targets conservatives."

Wacker speculated: "The glitch is that sites on this blacklist disappeared from Google search results, but the existence of the list is very much by design. And that raises a major question: Why was this blacklist created in the first place, and what else is it used for?"
There's apparenly good reason why Wacker -- like James Damore, Kevin Cernekee and Zachary Vorhies before him -- are former Google employees: it seems he was aggressively pushing his right-wing views at work. A statement from Google, as reported by Fox Business, stated that Wacker had been given multiple warnings "related to a pattern of threatening communications to co-workers and managers" which eventually led to his dismissal.
But, again, who needs facts when there's a narrative to push? A few days later, the MRC's "Free Speech Alliance" -- which cares only about "free speech" for right-wing ideologues -- sent a ranty letter baselessly accusing Google of lying: "This past Wednesday July 21, several conservative media platforms, including four of Media Research Center's (MRC) major sites, were removed from Google's search results. Google's official response was that this was the result of a technical glitch. We don't believe you. We believe Google is lying yet again. It's the same old game. ... You need to answer for this."
Needless to say, the letter completely censored the fact that the glitch also blocked left-leaning sites.
Bozell kept up the conspiracy-mongering and unproven accusations against Google in a July 28 column published not at his own operation but, rather, at the right-wing Daily Caller: "This past week, Google knocked more than a dozen prominent conservative sites off of its main search. The company claimed it had been a 'technical error,' not that anyone believes it. Former Google engineer Mike Wacker wondered if the company had a 'secret blacklist' of conservative sites." Again, no mention that left-leaning sites were also affected.
Bozell's accusations because more grandiose in a July 29 statement, in which he asserted that "Last week, the entire universe of conservative media vanished from Google's search results in the blink of an eye." But the original post by Weaver linked in the statement never claimed that "the entire universe of conservative media vanished" -- only randomly checked right-wing websites like those run by Bozell.
Since the timing of this "blacklisting" coincided with a congressional hearing at which Google CEO Sundar Pichai would be present, the MRC made sure to exploit the situation with a "demand" for answers about this, in the form of a question Republicans could ask him -- which ultimately argued that Google should be broken up:
Mr. Pichai, Google inexplicably shut down the general search for at least 15 prominent conservative sites. Then those searches magically reappeared. How does something like that happen? Even if it's just a technical error, as Google claimed, why does any company have that incredible amount of power, and why should U.S. regulations facilitate it? Isn't your company simply too big, and doesn't it need to be broken up?
(Note to Bozell: "at least 15" does not equal "the entire universe.")
As you can see, the MRC has continued to embellish its "blacklist" narrative until it largely strayed from established facts. That's what happens when narratives are more important than facts.
Oh, and shortly after all this drama played out, it was revealed that a bug in Instagram's algorithm systemically shielded Donald Trump from negative hashtags without doing the same for rival Joe Biden. The MRC said nothing about this, let alone attack the explantion as a lie. Narrative before facts, remember?
Posted by Terry K. at 10:58 PM EDT
Updated: Monday, September 21, 2020 12:58 AM EDT