MRC Mad GOP Congressman Got Caught Editing A Video (Not At The Edit)
Topic: Media Research Center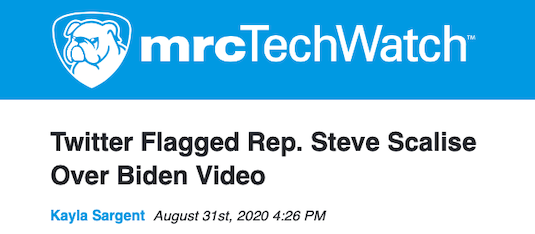 In addition to defending the worst people in the name of "free speech," the Media Research Center gets mad when their fellow conservatives get busted messing with video clips, apparently believing that the right to manipulation is "free speech" as well. Kayla Sargent complained in an Aug. 31 post:
Twitter has, once again, bowed to pressure from the left to silence conservatives.

House Minority Whip Steve Scalise (R-LA) reportedly removed a video from his Twitter account on Sunday after the platform flagged the video as having been "manipulated."

The video featured Ady Barkan, a man with Amyotrophic Lateral Sclerosis (ALS), in an interview with Democratic presidential nominee Joe Biden discussing police reform. Barkan speaks with the help of computerized voice assistance.

In the original video, Biden discussed his plans for police reform, and Barkin asked "But do we agree that we can redirect some of the funding?" Biden then replied, "Yes, absolutely."

The Scalise video had reportedly added the words "for police" to the end of Barkin's question, according to Fox News. As Fox reported, "The context of the original exchange made clear that Barkan was talking about redirecting police funding, but the edit drew strong criticism nevertheless."
No, Twitter is not trying to "silence conservatives"; it's trying to shut down manipulated images and videos. If Scalise had not manipulated the video, this would not be an issue. Sargent and the MRC are simply mad that Scalise got caught doing it -- and to someone it had dismissed as a "radical-left activist" just a month earlier and as a "far-left activist" a couple weeks earlier when he spoke at the Democratic National Convention. (No explanation, of course, of what exactly makes Barkan "radical" or "far-left"; he must be demonized no matter what).
The MRC, meanwhile, is certainly not going to tell readers what Barkan had to say a couple days later about conservative media outlets like the MRC who bolstered Scalise's misleading video:
Scalise has since conceded the video "shouldn't have been edited" in an interview on Fox News — even as he attempted to claim there was an underlying truthfulness to the message. That isn't the same as an apology to me, or, more important, the more than 2 million people in this country who communicate using assistive technology like I do.

It's specifically insulting to witness actors with the worst intentions hijack the technology that has allowed me to speak to try to speak for me, but this duplicity also exposes the broader information crisis in our society. When President Trump claimed, as he did in the run-up to the 2018 election, that a "migrant caravan" threatened the safety of the United States, he was bolstered by a vast conservative media that runs coverage amplifying his claims from morning to midnight. The inauguration crowd size, the repeated lies about voter fraud, claims about wiretapping, all of it is part of an attempt to shear one half of America away from the other by creating an alternate reality for Trump's supporters.

[...]

In that context, "deepfakes" such as the one Scalise posted aren't missteps. They're disinformation test balloons that should put every single one of us on alert. If they can without consequence make it seem as though I said something I didn't, what else can they do? What else will they do? What fearmongering words can they put in Biden's mouth in a video doctored to tip the election?
Nope, the MRC definitely does not want to have that conversation.
Posted by Terry K. at 11:23 AM EDT