CNS Is Still Publishing -- And Promoting -- Increasingly Extremist Michelle Malkin
Topic: CNSNews.com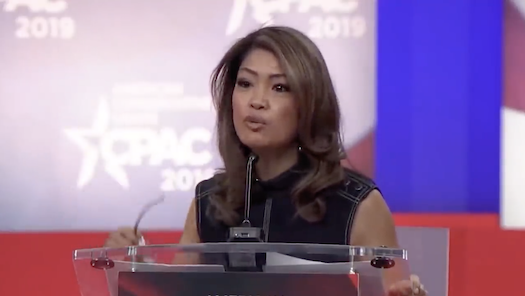 In August, we noted that CNSNews.com published Michelle Malkin's dishonest defense of the white nationalist group VDARE, while its sister site NewsBusters did not. Interestingly, NewsBusters skipped a few other Malkin columns after that before stopping completely; the last one at NewsBusters appeared on Oct. 30.
Meanwhile, CNS is sticking with the increasingly extremist Malkin -- well, mostly. It declined to publish her Nov. 27 column in which she went full anti-vaxxer by ranting about "government-coerced immunization" regarding mandates for children to get immunized against human papillomavirus, dismissing it as "usually harmless" despite the fact that it's a leading cause of cervical cancer and obsessing over isolated cases of adverse side effects to falsely smear it as unsafe.
CNS apparently embraces Malkin's increasing vicious anti-immigrant rhetoric, such as her Dec. 5 column huffing that the U.S. is being "fundamentally and permanently transformed into United Nations refugee camps full of welfare dependents and tax burdens."
Shockingly, CNS remains so infatuated with the extremist Malkin that it touted an award she received. A Dec. 6 article by Craig Millward gushed:
Upon receiving an "Impact Award" from United in Purpose on Wednesday, Dec. 4, syndicated columnist and best selling author Michelle Malkin said, "I am an extremist when it comes to telling the truth."

Malkin was one of 10 conservative leaders to receive an "Impact Award" in a ceremony held at Trump International Hotel in Washington D.C. on Wednesday.

[...]

"Because we all share a common zeal, an extreme zeal -- I embrace that word – yes, I am an extremist when it comes to telling the truth," said Malkin. "And I know that each of the honorees here has been able to effectively use their powers of communication to do good and make an impact."
Millward didn't mention that Malkin is also an extremist when it comes to white nationalism and anti-vaxxer conspiracy theories.
CNS should explain why it's continuing to align itself with such an extremist, even though its sister publication has stopped doing so.
Posted by Terry K. at 12:16 AM EST