MRC Cheers Sports Operation Run By Right-Wing Woman-Hater
Topic: Media Research Center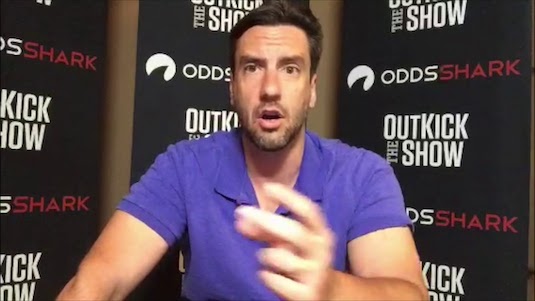 The Media Research Center's favorite sports website is the right-wing Outkick the Coverage, now known just as Outkick. In June, Matt Philbin cheered how commentator Jason Whitlock moved there from Fox Sports (how far-right do you have to be to think that a Fox-run operation is not conservative enough for you?) and touted how "Whitlock and partners Clay Travis and Sam Savage want to turn "Outkick.com into a powerful media platform, a national distiller of truth, humor and fun." In july, the mysterious Jay Maxson promoted Whitlock declaring that "LeBron James and Colin Kaepernick are 'useful idiots,' a reference to Vladimir Lenin's strategy of spreading communist propaganda through uninformed people who don't fully comprehend the agenda."
The MRC loves Outkick cofounder Clay Travis as well. for example, in 2016, then-sports blogger Dylan Gwinn gushed at how Travis "let the knowledge bombs fall" in a defense of police, and and Maxson wrote in 2017 on how Travis declared that Colin Kaepernick "gets a ton of press only because left-wing media are using him to advance their own political beliefs."
When the Washington Post did a profile of Travis and Outkick that was not sufficiently laudatory, the MRC rushed to their defense with not one but two posts by Philbin. In the first, he got mad that the Post pointed out Travis' polarizing right-wing political views, and the second was devoted to rehashing Travis' own attack on the Post "hit piece."
The MRC, however, is not going to tell you about Travis' sleazy past. As Media Matters documented:
In 2008, Travis -- credited alongside "the deadly hippos" -- wrote Man: The Book, an effort at "satire" that instructed men to "Be A Man" and includes in the Amazon description, "If it gets you into bed with a girl, it isn't a lie."

In the "satirical" book, Travis instructs men to go to hospitals to hit on rape victims, "dash" a woman's head "on the fireplace," refer to a wife or girlfriend as a "cockmitten," murder a woman's cat in front of her and feed it to your dog, and says, "If you remember nothing else from this book, make this phrase your credo: All women are sluts."

[...]

In May, Cleveland Cavaliers superstar LeBron James reported that a racial slur had been spray-painted on his Los Angeles home, reporting the incident to the Los Angeles Police Department with a photograph of the vandalism. Travis alleged that James, one of the highest-paid athletes in the world, staged the incident in order to build up goodwill prior to the 2017 NBA finals.
So Travis is not just a woman-hater, he's a bit racist too. This is who the MRC thinks is a credible conservative to promote.
Posted by Terry K. at 2:00 PM EDT
Updated: Thursday, September 17, 2020 2:01 PM EDT