MRC's Lord Won't Deny Obama Birtherism Was A Bad Thing
Topic: Media Research Center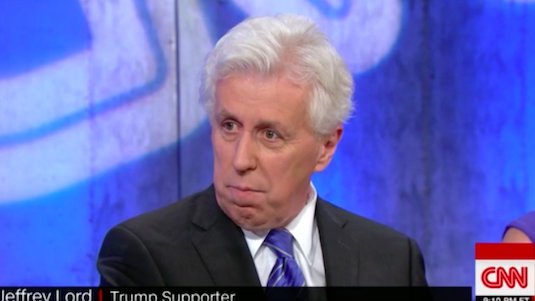 In response to President Trump's embrace of a claim that Kamala Harris isn't eligible to be president because her parents weren't U.S. citizens at the time she was born in the U.S., Jeffrey Lord spent his Aug. 15 Media Research Center column ranting that Democrats are the real birthers, invoking discussion about the eligibility provenance of Repubicans from Mitt Romney to Ted Cruz to 19th-century president Chester Arthur (to whom Lord devoted a good chunk of the column). But of the most prominent victim of birther accusations, Lord has this to say:
Over at Mediaite was this story about the question being asked of President Trump at his press conference on Thursday. He had not heard of the issue and said he would look into it. The Mediaite reporter than says this:

"Trump infamously pushed the racist Birther conspiracy theory about President Barack Obama for years before finally bowing to reality just two months before the 2016 election."

The Washington Post dutifully went to the Biden campaign for comment, and happily ran this response from one Andrew Bates, a campaign spokesman. Trump, said Bates, "was the national leader of the grotesque, racist birther movement with respect to President Obama."

The left wing Talking Points Memo nstantly played the race card, headlining: "Trump Ignites Yet Another Racist Conspiracy Theory, Aimed This Time At Kamala Harris."

The Chicago Tribune chimed in with this: "He (Trump) was a high-profile force behind the so-called 'birther movement' — the lie that questioned whether President Barack Obama, the nation's first Black president, was eligible to serve."

And on…and on this obsession with playing the race card went across the perpetually race-card playing media.
Note that Lord never actually denounces Obama birtherism as illegitimate the way he did when made against Republican candidates; he only complains that the media claimed Trump had racist intent in pushing it.
Lord has done this before. In 2016, Lord used a CNN appeaerance to deny that Obama birtherism was racist without criticizing Obama birtherism itself while also ranting about, yes, Chester Arthur. That resulted in a fellow guest to respond, "Are you kidding me? Is this a comedy show, Jeff?"
If Lord can't admit that Obama birtherism -- which went on for years -- was as similarly illegitimate as questioning Harris birtherism (which he did deny was an issue), perhaps he should stay out of this discussion.
This is in line with the MRC's semi-birtherism on Obama. As we documented, it wasn't moved to explicitly denounce right-wing birther attacks on Obama from Trump or anyone else until Cruz's eligibility was questioned.
Posted by Terry K. at 11:06 AM EDT