MRC Censors The Fact Trump Won't Commit To Accepting Election Results
Topic: Media Research Center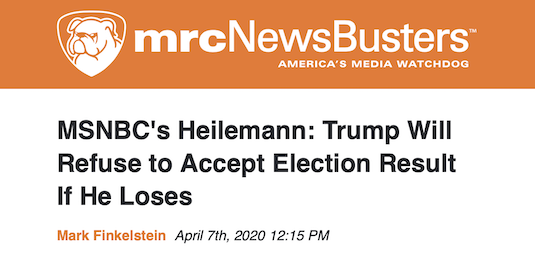 Back In April, NewsBusters blogger Mark Finkelstein complained:
Today's Morning Joe came close to accusing President Trump of plotting a coup d'etat to remain in office if he loses the election in November.

The President has been openly critical of the loosened vote-by-mail measures that Democrats have proposed, suggesting that vote-by-mail facilitates voter fraud. Since the individual states control voting rules, many states are likely to adopt such measures in time for the November election.

Joe Scarborough suggested to John Heilemann that Trump's criticism of vote-by-mail indicates that he is "preparing already to undermine any results that may be unfavorable to him in the fall."

Heilemann not only agreed, but took it a stunning step further: "If he loses the election, he will stand up and say, 'This election was rife with fraud. We had way too much vote by mail.' I guarantee you that President Trump is thinking already about trying to build that predicate so that he can dispute the result of the election on this basis."

[...]

So Heilemann can "guarantee" that President Trump is thinking of ways to refuse to accept an election loss! Amazing powers of mind-reading. Also, an exceptionally insidious accusation against the president.
Heilemann's prediction has largely unfolded exactly as he said -- Trump has repeatedly refused to state that he will accept the results of the election, and Republicans are indeed preparing to contest the election if Trump loses. Yet the MRC has regularly dismissed the idea that Trump won't accept an election loss as a conspiracy theory.
Clay Waters complained in May that a New York Times reporter was filled dwith "anti-Trmp paranoia" when he raised the possibility that Trump will reject the election results. Another Waters post listed the idea that Trump won't acceptthe result as among "feverish conspiracy theories" the Times allegedly holds, then played whataboutism by claiming that "Democrats have been trying to discredit the 2016 results from Day One."
That whataboutism was common. In a July post, Kristine Marsh grumbled about CNN host Alisyn Camerota leading a panel discussion about Trump: "During this show she also floated left-wing conspiracies that President Trump will refuse to leave office, asking, 'Show of hands, how many people that President Trump may not accept the election results?' Show of hands, how many journalists at CNN haven't accepted the 2016 results?"
Also in July, Duncan Schroeder asserted that CNN host Jim Sciutto went "into tin-foil hat territory" by "fearmongering about Trump not accepting the election results," then played the whataboutism card again: "Sciutto and his fellow Democrats have yet to "accept the results" of the 2016 election and attack Trump still."
None of these posts admitted that Trump has refused to say whether he will accept the election results if he loses. Nor have any of these posts been corrected to reflect that fact.
It's as if the MRC is the media arm of the Trump campaign and won't admit to any negative news about him.
Posted by Terry K. at 9:07 PM EDT
Updated: Wednesday, September 23, 2020 9:28 PM EDT