MRC Still Choosing To Own the Libs By Embracing QAnon
Topic: Media Research Center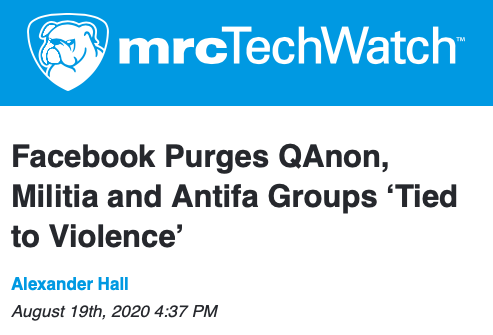 We've documented how the Media Research Center has largely embraced the far-right QAnon conspiracy theorists in order to own the libs by painting them as victims of "censorship" of their dangerous fringe theories. It hasn't stopped doing so.
A Aug. 19 post by Alexander Hall whined:
Facebook revealed its new "Dangerous Individuals and Organizations" policy to crack down on groups the platform said are "tied to violence." It was the latest of many revisions in Facebook policies in recent weeks, all seemingly connected to the election.

"Today we are taking action against Facebook Pages, Groups and Instagram accounts tied to offline anarchist groups that support violent acts amidst protests, US-based militia organizations and QAnon," Facebook reported in an August 19 blog. Facebook declared that it had "removed over 790 groups, 100 Pages and 1,500 ads tied to QAnon." In targeting "militia organizations and those encouraging riots, including some who may identify as Antifa," Facebook has "initially removed over 980 groups, 520 Pages and 160 ads."
As usual, Hall censored the fringe nature of QAnon, then portrayed them in an end-of-item call to action as mainstream fellow travelers who are being victimized the same way the MRC loves to complain conervatives are: "Contact Facebook headquarters at 1-650-308-7300 and demand that Big Tech be held to account to mirror the First Amendment while providing transparency, clarity on "hate speech" and equal footing for conservatives.
On Aug. 31, Hall complained that "Twitter censored a post retweeted by President Donald Trump indicating that the amount of COVID-19 deaths has been greatly exaggerated." But in noting that Trump had retweeted a QAnon adherent named Mel Q, Hall oddly framed a description of the conspiracy theory as coming from a bastion of the "liberal media," as if to discount the description: "Mel Q appears to be associated with the 'QAnon' conspiracy theorists, who according toThe New York Times, reportedly believe: 'Mr. Trump ran for office to save Americans from a so-called deep state filled with child-abusing, devil-worshiping bureaucrats.'"
In contrast to Hall, though, others at the MRC do seem to recognize that QAnon is something that should perhaps not be mainstreamed. Clay Waters groused in an Aug. 15 post that a New York Times reporter "smeared the Tea Party by comparing it to the nutty QAnon conspiracists." Waters also rebutted the claim that the Tea Party ebraced Obama birther conspiracy theories by huffing that "the 'birther' rumors about Barack Obama originated among Hillary Clinton supporters during the 2008 primary." But as we've noted, it was not Hillary supporters that obsessively pursued birther conspiracies for eight years but, rather, the likes of the definitely-not-Hillary-supporters at WorldNetDaily.
An Aug. 18 post by Heather Moon took offense to ranty "pro-Trump radio host" Bill Mitchell being described as a QAnon supporter and gave him space to finesse that claim while not explicitly denying it: "Mitchell addressed such claims on his Parler account. He explained that he has interviewed a few prominent QAnon (Q) followers on his radio program, and that he has "nothing against Qanon and those from the movement I have met seem to be true patriots and love Trump." However, he clarified that he's "never personally followed Q," and noted that "it's just too esoteric for my tastes."
Posted by Terry K. at 10:26 PM EDT