Apologist: MRC Labors To Defend Trump's Payroll Tax Cut
Topic: Media Research Center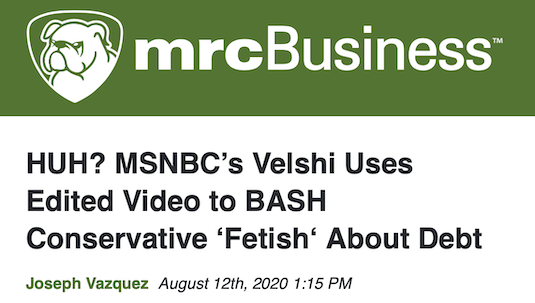 For a good example of bhow the Media Research Center serves as a propagandist for President Trump and his administration -- while also reinforcing Trump's anti-media agenda -- it's hard to beatthis Aug. 12 post by Joseph Vazquez.
Vazquez staerted off by unironically accusing MSNBC's Ali Velshi of having "inundated viewers with propaganda by pointing out that "the GOP was 'deceiving Americans' and conforming to a 'conservative fetish about poor people getting freebies and running up the national debt.'" He then retorted: "Saying conservatives have a 'fetish' about 'running up the national debt' is like saying liberals have a 'fetish' about tax cuts."
Vazquez is rather deliberately missing Velshi's point -- conservatives cry poor when it might go to people and causes they disapprove of, i.e., coronavirus relief for poor people, but make sure their supporters get the money they want, and that it makes no logical sense for conservatives to insist there's no more money for coronavirus relief when trillions have already been approved by a Republican Senate and signed by a Republican president.
Vazquez then laboriously explained that a video of Federal Reserve chief Jerome Powell was edited to say that there is "essentially ... no" limit to what the Fed will put into the economy to keep it afloat when he actually said there wasn't a "blank check," which "completely undermines Velshi's 'magical money tree' argument." But Vazquez is distorting what Velshi said -- he pointed out that there is a "money tree" for banks and the stock market, but not those who "are unemployed through no fault of their own."
This was followed by Vazquez getting mad at Velshi noting that conservatives didn't care about the debt when they supported a tax cut in 2017. In rebuttal, he cited the right-wing Heritage Foundation -- hardly an objective source -- blaming the debt on Social Security, Medicaid and Medicare.
Finally, Vazquez served as an apologist for Trump:
He lambasted Trump's order to suspend the payroll tax, which he claimed would "hurt Americans more than anything, because it takes money away from Social Security and Medicare."

This is also misleading. According to liberal outlet Politifact, "While it's true that the payroll tax provides nearly 90% of the revenues for Social Security, The program's promise to people exists outside of the funding mechanism." The outlet rated the claim that "Killing the payroll tax means killing Social Security" as "Half-True." But as the Yiddish proverb goes, "A half truth is a whole lie."
Vazquez is being deliberately obtuse here. If it was so easy for Congress to designate another funding mechanism for Social Security outside the payroll tax, it would have done so already. Because it hasn't, and because the payroll tax funds nearly all of the program, cutting the payroll tax will, in fact, take money away from it and Medicare.
Vazq uez is attacking a "half truth" with his own half-truth. By the Yiddish proverb he invokes, that makes him a liar.
Posted by Terry K. at 4:48 PM EDT