MRC Joins Right-Wing Race-Baiting On 5-Year-Old's Murder
Topic: Media Research Center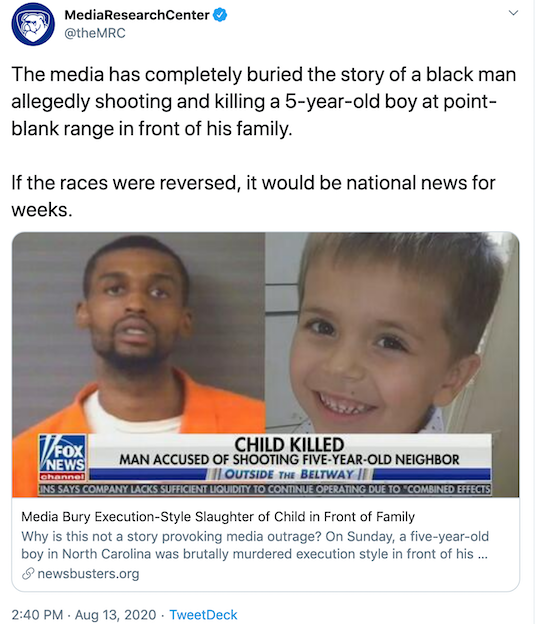 The Media Research Center has largely stayed away from explicit race-baiting -- but its increasing anger and extremism has apparently made that palatable now.
For the past few weeks, right-wing media has been obsessed with Cannon Hinnant, a white 5-year-old boy who was killed without apparent provocation by a black man who lived next door, as an apparent response to the police-committed death of George Floyd, despite the fact that Hinnant's parents have insisted it's not an issue of face.
Despite that, the MRC's Scott Whitlock decided to pile on in an Aug. 13 post:
Why is this not a story provoking media outrage? On Sunday, a five-year-old boy in North Carolina was brutally murdered execution style in front of his family by a neighbor. Cannon Hinnant was playing outside his home when a neighbor, Darius N. Sessoms, walked up and shot the child in the head. It's every parent's worst nightmare. Yet the national media has mostly been silent.

As The Blaze noted, "The gruesome murder was reportedly witnessed by Hinnant's 7-year-old and 8-year-old sisters" and neighbors. Yet, the networks, CNN and MSNBC have boycotted the topic.

[...]

Are journalists able to cover multiple stories or not? Clearly, there are several big stories driving the news, from Kamala Harris to the pandemic. But CBS still found time on Wednesday night and Thursday morning to the suspension of a cop for having his K-9 dog attack someone (under questionable circumstances).

Yet, nothing for this appalling act of violence. Nothing on the unimaginable grief suffered by the family of young Cannon.
Whitlock dishonestly omitted the races of the victim and perpetrator in his post -- that is, the entire reason Hinnant's death is being so hyped in right-wing media. Nor did he not that there is no issue of injustice here: Hinnant's alleged shooter was quickly arrested and nobody is agitating on his behalf, compared with, say, the police-caused deaths of Floyd and Breonna Taylor.
But the purpose was made clear with the Fox News screenshot that accompanied his post -- a smiling white boy paired with an angry-looking black man -- as well as the promotional copy in an MRC tweet: "The media has completely buried the story of a black man allegedly shooting and killing a 5-year-old boy at point-blank range in front of his family. If the races were reversed, it would be national news for weeks."
This is how the MRC is dipping its toes into right-wing race-baiting. Expect to see more of it.
Posted by Terry K. at 11:09 PM EDT