MRC Mainstreams Another Right-Wing Extremist
Topic: Media Research Center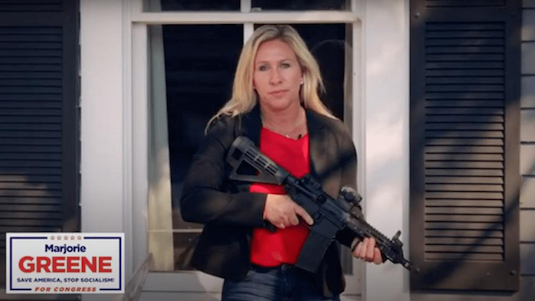 CNSNews.com stopped talking about Georgia Republican congressional candidate Marjorie Taylor Greene after it was revealed she's an avid believer in fringe QAnon conspiracy theories with a historyof posting extremist racist and anti-Semitic videos on Facebook. CNS' parent organization, the Media Rseearch Center, wants you to think that she's a completely normal conservative -- or at least try to change the subject when it can't do so.
In a July 20 post, Duncan Schroeder responded to a CNN commentator pointing out Greene's QAnon and extremist affinities with a blast of whataboutism: "CNN has promoted multiple 'nonsense' conspiracy theories about Trump including the Russia pee tape, Russia collusion, and the abuse of power allegations which resulted in his impeachment." In an Aug. 15 post, Clay Waters conceded in passing that Greene is a "QAnon acolyte," but he was more angry that the New York Times portrayed QAnon as an outgrowth of the right-wing Tea Party movement.
Alexander Hall, however, went for normalization by portraying Greene in a Sept. 8 post as just another conservative who is being " censored" by social media:
The U.S. House candidate for Georgia's 14th district appears to have been locked out of her Twitter account after posting about potential voter fraud in her home state.

Founder and Co-Chairman of Students for Trump Ryan Fournier accused Twitter of censoring a congressional candidate. "BREAKING: Twitter has locked Georgia 14's next Congresswoman @mtgreenee out of her account!" Fournier wrote on the morning of September 8. He then declared, "Censorship must end! Go follow Marjorie!" Twitter did not respond to inquiry to confirm her lockout, and if so, why it had occurred. At least one post from U.S. House candidate Marjorie Taylor Greene had seemingly been removed from the platform and replaced with the caption "This Tweet is no longer available because it violated the Twitter Rules. Learn more."

On her Twitter account, she described her views: "Christian, Wife, Mom, Small Business Owner, Proud American, 100% Pro-Life, Pro-Gun, Pro-Trump, #MAGA." Greene shared a story claiming that 1,000 Georgians had voted twice in the state's primary on June 9 as her last post before going silent.

Hall censored the fact that Greene has a history of racism, anti-Semitism and QAnon affiliations.
The MRC loves to mainstream fringe ideologies like QAnon and fringe candidates like Greene and Laura Loomer to further their victimization narrative by social media against conservatives, while hiding the true nature of their extremism.
Posted by Terry K. at 9:34 PM EDT