WND's Massie Goes There, Portrays Kamala Harris As A Literal Whore
Topic: WorldNetDaily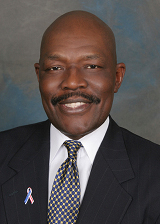 Mychal Massie despises Kamala Harris and Elizabeth Warren, and he felt the need to dedicate his Feb. 25 WorldNetDaily column to smearking them in the most vile and personal terms, including calling them whores -- Warren figuratively but Harris literally:
Kamala Harris and Elizabeth Warren are both Democrats, and they're both examples of the lowest forms of amoral humanity. Ergo, it should come as no surprise that, realizing they haven't a snowball's chance at the equator of coming close to winning their respective Democratic presidential bids, they've resorted to what their kind commonly ascent. They find a subject they can exploit and fan the flames of same. They know they will never get the party nomination, but they hope to position themselves favorably for a cabinet post.

[...]

Black people do not need or deserve reparations; they need common sense, they need to embrace modernity, and they need to embrace morality. Pursuant to same, Harris and Warren are among the greatest examples of those with an absence of said qualities.

Specifically, Harris engaged in what many call the oldest profession in the world by taking up with California's Willie Brown during his tenure in elective office. One could sarcastically ask if she learned the art of selling herself as a way to get ahead or if it came naturally as a politician. Whether or not Harris used the assets she so readily shared with Brown with other powerful individuals in the California and Sacramento political and campaign establishment is open to conjecture.

What is not open to conjecture is that Brown at the time of his sexual exploits with Harris was and still is married to his wife, Blanche Vitero. It is also a known fact that passing around "candy" is commonplace in the hidden echelons of politics. It is therefore fair to ask, who else Harris slept with to get what she wanted?

[...]

I find it interesting that in a day and time when liberal feminists, as if there were any other kind, boast of being strong independent women, Harris and Warren found it easier to get ahead by whoredom and lies. But, I digress.
Digressing so much, in fact, that Massie doesn't mention that Brown had long been separated from his wife, though not divorced, when he was involved with Harris. And as we've come to expect from Massie, his sleazy assertion that Harris slept her way to the top is not true.
Bizarrely, Massie apparently finds more virtue in a man on his third marriage who paid hush money to a porn star:
We have a lion in the White House who has accomplished great things in a mere two years, in the face of the most extreme political obstruction ever witnessed. Let Harris and Warren answer why We the People of America would want to entrust America back to Democrats, much less to Democrats who are proven liars without a thread of morality.
Massie has had nothing to say about Trump's affairs while still married.
Posted by Terry K. at 1:18 AM EST