CNS Does Damage Control On Allegations That Trump Disrepects The Troops
Topic: CNSNews.com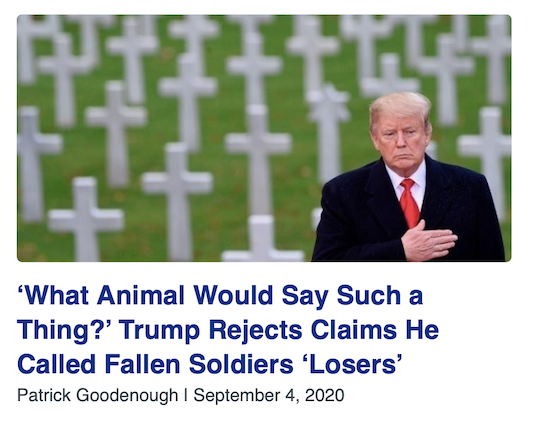 CNSNews.com is all too familiar with having to do damage control for President Trump. But that's its job, so it must continue to give up all pretense of being a fair and balanced "news" operation to do so.
So when an Atlantic article accused Trump of disrespecting the troops, the first thing it did is call on Patrick Goodenough to play up Trump's denial and his attacks on the Atlantic for reporting it:
President Trump on Thursday night hit back at an article alleging that he called fallen American soldiers "losers" and "suckers," saying the magazine's anonymous sources – if they "really exist" – were "low-lives" and "liars."

Those behind the article in The Atlantic, he charged, were trying to "influence a presidential election" which, he said, "we're going to win, and they're going crazy."

Speaking at Joint Base Andrews after returning from a campaign event in western Pennsylvania, Trump called the article "a disgrace."

"And I would be willing to swear on anything that I never said that about our fallen heroes. There is nobody that respects them more."

"So I just think it's a horrible, horrible thing," Trump said of the article in what he called a "never-Trumper magazine," adding that a great evening had been turned into "frankly a very sad evening, when I see a statement like that."
That was followed by an article by Melanie Arter stating how Joe Biden "seized on" the Atlantic report,"which President Donald Trump denies to be true."
The damage control kept coming; Sept. 8 article by Arter bashing the Atlantic's use of anonymous sources , featuring former Defense Secretary Chuck Hagel saying that those making the allegations shouldn't hide behind anonymity, joined by a second one featuring a governor claiming that Trump has been "extremely respectful" in regard to the military. Both men appeared on ABC's "This Week with George Stephanopoulos," whose name Arter spelled wrong in both articles.
Arter cranked even more spin from another Sunday show, in an article stating that "VA Secretary Robert Wilkie told CNN's "State of the Union" on Sunday that President Donald Trump should be judged by his actions, and those actions 'have been beneficial for veterans all across this country in ways that we have not seen since the end of World War II.'"
For good measure, CNS also published a column by a guty from down the hall -- Tim Graham of the Media Research Center -- denouncing the Atlantic as a "hyperpartisan outlet."There was no mention of the fact that CNS and the MRC are even more hyperpartisan outlets, and if the Atlantic shouldn't be trusted because of that, neither should CNS.
Posted by Terry K. at 1:05 AM EDT