CNS On Impeachment: Cleanup Mode
CNSNews.com is so pro-Trump that it not only tried to spin away the worst aspects of President Trump's Ukraine entanglement, it tried to retcon the most incriminating statements about it made by the president and his surrogates.
By Terry Krepel
Posted 12/10/2019
---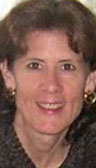 Susan Jones
When the scandal over President Trump's phone call to the Ukranian president broke in late September, CNSNews.com treated it exactly the way you'd expect: with a heavy pro-Trump bias, at least based on its first week of coverage.

Susan Jones' first article on the whistleblower complaint that led to the controversy served up her usual pro-Trump/anti-media framing, complaining that the report "provides new fodder for determined anti-Trump investigators" and that "liberal media outlets, including the Post, have seized on the report." She also complained that Democratic Rep. Adam Schiff, head of the House Intelligence committee, is "a dedicated Trump foe." That was followed by more Jones articles touting Trump's dismissal of the complaint as "fake news," attacking the whistleblower and mocking Schiff, with no additional editorial commentary.

Jones also knew where to direct the story for maximum pro-Trump sycophancy: at Joe Biden. One article was devoted to uncritically repeating Rudy Guiliani's rants falsely claiming that Biden, as vice president, withheld federal money to Ukraine until an investigator who was looking into dealings in the country involving Biden's son Hunter was fired. (In fact, U.S. and European officials wanted the investigator fired because he wasn't investigating corruption in the country, which Jones didn't tell her readers.)

In a follow-up article, Jones bashed Schiff for "getting ahead of the actual facts" while making no editorial comments when quoting Treasury Secretary Steve Mnuchin for pointing out that conversations between world leaders are supposed to be confidential. Later, Jones lamented that the controversy has "has stoked Democrat [sic] cries for impeachment. By contrast, Jones made no judgments against Republicans Devin Nunes and Lindsey Graham in reporting their comments backing Trump and criticizing Biden. She also touted Republicans Jim Jordan (a favorite of CNS' parent, the Media Research Center) and Mark Meadows bashing the controversy, huffing that it originated with "a second-hand whistleblower complaint."

Jones continued her blatant bias, whining in a Sept. 24 article:
We demand more documents!

The Democrat [sic] chairmen of three House committees are "demanding that Secretary of State Mike Pompeo immediately begin producing documents the State Department has been withholding in response to a letter the Chairmen sent two weeks ago relating to efforts by the President and his personal lawyer, Rudy Giuliani, to solicit the help of a foreign power to interfere in the 2020 Presidential Election."

[...]

Meanwhile, House Democrats are meeting at 4 p.m. to discuss possible impeachment proceedings against President Trump, this time for something he supposedly said in phone call with the newly elected Ukraine president.

Never mind that Congress does not know details about the complaint filed by an intelligence community whistleblower. And press reports now say the whistleblower's complaint is based on what he heard from someone else.
The same day, Jones uncritically repeated more dubious assertions about the Bidens from Trump, without snarkiness or additional editorial comment, though she repeated the false claim that "Joe Biden in 2016 forced the Ukraine government to fire a prosecutor who was looking into corruption."
On Sept. 25, Jones shockingly did not add partisan snark to two articles featuring Senate Minority Leader Chuck Schumer talking about an impeachment inquiry. But then, she also uncritically presented statements from Lindsey Graham and Trump attorney Jay Sekulow, even as Sekulow ranted about "former Vice President Joe Biden's quid pro quo with the Ukraine government" (which, in that framing, ignores the facts).
CNS' Melanie Arter, meanwhile, was (as usual) stuck in stenography mode writing stuff with headlines like "Trump to Ukraine: 'There's a Lot of Talk About Biden's Son, That Biden Stopped the Prosecution'."
Cleaning up after gaffes
As the story became more serious -- and Trump and supporters said incriminating things -- CNS had to to into cleanup mode to protect its favorite president. Arter served up another one of her Trump stenography specials in an Oct. 3 article:
China and Ukraine should investigate former Vice President Joe Biden and his son Hunter, President Donald Trump said Thursday.

Speaking to reporters prior to heading to Florida, the president was asked what he hoped Ukrainian President Volodymyr Zelensky would do about the Bidens after his phone call with Ukraine.

"Well, I would think if they were honest about it, they'd start a major investigation into the Bidens. It's a very simple answer. They should investigate the Bidens, because how does a company that's newly formed, and all these companies – and by the way, likewise, China should start an investigation into the Bidens because what happened in China is just about as bad as what happened with Ukraine," Trump said.
This invitation by Trump to a foreign government to investigate a political opponent didn't go over well, especially since the impeachment inquiry is centered on his attempt to get a different foreign government to investigate the same political opponent. So, a couple days later, CNS went into cleanup mode by suggesting that Trump was merely joking (though Arter didn't indicate he was doing so in her original report). In a Oct. 7 article, Arter quoted a chief Trump defending trying to retcon and spin away Trump's remarks:
Rep. Jim Jordan (R-Ohio) told ABC's "This Week with George Stephanopolous" on Sunday that he doesn't think President Donald Trump was serious about China investigating former Vice President Joe Biden and his son, Hunter.

When asked whether he thinks it's appropriate for Trump to ask China and Ukraine to investigate Biden, Jordan said, "George, you really think he was serious about thinking that China's going to investigate the Biden family?"

"He said it right there in public," Stephanopolous said.

Jordan said Trump has been tougher on China than any other president, and the president wants to make sure China quits stealing America's intellectual property and starts abiding by international trade norms.

Jordan said he wished there was the same outrage from the media when the DNC hired a foreigner who worked with the Russians to dig up dirt on the Trump.
The same day, Arter penned a different article featuring a different Trump defender pushing the exact same just-kidding talking point:
Sen. Roy Blunt (R-Mo.), who serves on the Senate Intelligence Committee, told CBS's "Face the Nation" on Sunday that he doubts that President Donald Trump was serious when he called on China last week to investigate the Bidens.

"I doubt if the China comment was serious to tell you the truth," Blunt said, adding that he hadn't talked to Trump about his comments and doesn't know what the president was thinking, "but I do know he loves to bait the press."

Blunt said he baits the press "almost every day" to see what they will talk about.
Two days later, on Oct. 9, Arter finally wrote about Biden's response to Trump's demand. Unlike with her original bit of Trump stenography, she allowed another side of the story to be told in the form of Trump tweeting in response to Biden.
It wasn't until a nearly week later, on Oct. 14 -- 11 days after the original story broke -- that Arter got around to quoting a Republican, Sen. Ted Cruz, who disagreed with Trump's call for China to investigate the Bidens.
But, hey, that's life as a pro-Trump stenographer at CNS. And even then, she wasn't so dedicated to accurate journalism that she could be moved to figure out how to spell George Stephanopoulos' name correctly in the Jordan article.
Related articles on ConWebWatch:
When White House chief of staff Mick Mulvaney held a mid-October press conference, he effectively admitted that Trump withheld military aid from Ukraine because Trump wanted the country to investigate conspiracy theories that involved the 2016 election and Joe Biden's son -- then tried to walk back the claim shortly thereafter. But, of course, that's not the way CNS framed it.

Jones' first article started by framing Mulvaney's remarks the way he wanted them framed -- by uncritically quoting him saying there was no issue with Trump holding up aid to Ukraine because "President Trump is not a big fan of foreign aid, never has been, still isn't." The quid pro quo admission is buried far down and not highlighted. Sometime after the article was published, a note was added to the top of the article stating that "Mulvaney issued a statement pushing back on reports that he admitted to a quid pro quo involving Ukraine, i.e., U.S. military aid in exchange for Ukraine's cooperation with the ongoing 2016 election-corruption investigation"; it's not explained that those reports he's "pushing back" on are accurate and that he's now saying something different than his original claim.

Jones' next article tried to reframe things by criticizing the way Mulvaney was asked questions and parsing his answers to leave out the whole quid pro quo stuff:
Listen to these two questions asked of Acting White House Chief of Staff Mick Mulvaney on Thursday:

(1) "Can you describe the role that you played in pressuring Ukraine to investigate the Bidens?" and (2) "Can you walk us through the meeting that President Trump was dangling over Vladimir Zelensky to have him right here at the White House? What were the preconditions of that meeting and was investigating Burisma one of them?"

Both questions assume guilt on the part of the Trump administration, but Mulvaney answered them.

The answer to the first question is "none," Mulvaney said. "I didn't have any--any--what was your question? What did I do to Ukraine or something? Nothing."

[...]

The reporter repeated: "The second question is about the meeting that was supposed to happen here at the White House between the two presidents. Could you walk us through the discussions for that meeting? What was on the table for a precondition, and was the investigation of Burisma ever brought up as a condition to meet with President Trump?"

"No," Mulvaney said. "Not to me and not to anybody I know of. I was never in a conversation that--that had the word Burisma in it...or the Bidens. That never happened with me in there.
Jones was pretty much the only person trying to make that argument -- even among her fellow right-wingers.
Arter gave it another shot in an Oct. 21 article, uncritically recounting Muvaney's "Fox News Sunday" appearance in which he continued to reverse himself on the quid pro-quo admission. It's straight, boring, badly formatted stenography that again buried the fact that Mulvaney is contradicting himself.
CNS did its readers a disservice by refusing to accurately and honestly report the news, instead serving as an extension of the White House press office, and it hardly inspires trust in CNS' work.
The latest from