MRC Whines That Newspaper Focused On Scandal-Ridden GOP Candidate's Scandals
Topic: Media Research Center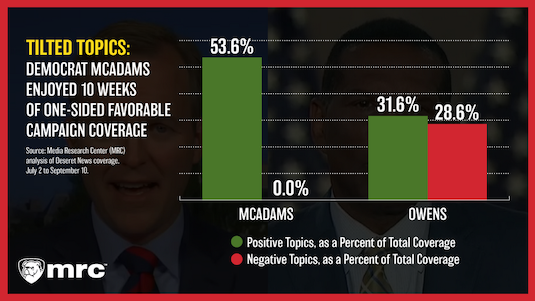 The Media Research Center's Rich Noyes complained in a Sept. 21 post:
One of the closest congressional contests in 2020 is the race for Utah's 4th district, pitting freshman Democrat Rep. Ben McAdams against former NFL player and businessman Burgess Owens. A poll conducted in late July by the Hinckley Institute of Politics andThe Deseret News found it to be an absolute tie, with each candidate garnering 35 percent of the vote, and another 24 percent saying they didn't know for whom they'd vote.

But The Deseret News has, through its news coverage, created a favorable environment for the Democratic candidate and his message, even as it repeatedly hammers the Republican on an array of personal controversies, according to a study by the Media Research Center.
Noyes' clief complaint: that the Deseret News reported that Owens has some notable scandals, while McAdams had none:
Owens has been repeatedly targeted with negative stories, while McAdams has escaped scrutiny.

Owens' coverage included multiple negative topics:

■ whether or not he was too extreme for the 4th District (mentioned in six stories, in a total of 23 paragraphs);
■ his initially-mixed messaging on renewed nuclear testing (six stories, 20 paragraphs);
■ his appearance on a radio show linked to QAnon conspiracists (four stories, 15 paragraphs);
■ allegations that he plagiarized portions of his book (one stories, seven paragraphs).

[...]

During these same weeks, there were essentially no negative topics about McAdams, but rather an assortment of positive stories which reinforced his campaign themes of independence and service on behalf of Utahns.[.]
But Noyes offered no evidence that McAdams did any scandalous things that warranted negative coverage.
Noyes seemed to concede that the negative coverage of Owens is legitimate, and that he "needs to demonstrate he's an acceptable choice to voters who would be inclined to vote Republican." But still he blamed the newspaper for reinfocing McAdams' "campaign objectives," adding: "Unlike opinion-based journalism, campaign news coverage should inform voters so they can make up their own minds, based on their own values and preferences. It should not steer voters toward one side or the other. In this case, the news pages of The Deseret News are violating that standard."
Noyes is hiding a big secret, though: the Deseret News is not part of the "liberal media," despite his efforts to portray it as such. It's actually owned by a division of the Churst of Jesus Christ of Latter-day Saints -- a.k.a. the Mormons -- and its bias, as detected by both Media Bias Fact Check and AllSides, is conservative, not liberal.
In other words, Noyes is attacking a conservartive newspaper for not being conservative enough. We call that Heathering, which the MRC loves to do.
Posted by Terry K. at 9:32 AM EDT