MRC Can't Stop Exploiting Tara Reade (And Censoring E. Jean Carroll)
Topic: Media Research Center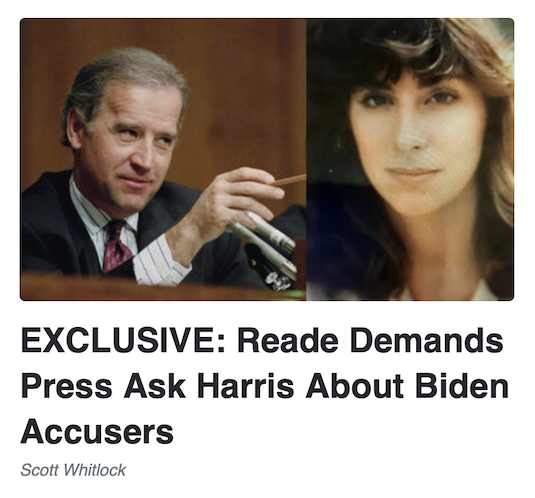 As we've documented, the Media Research Center doesn't actually care about Tara Reade -- it only cares that her dubious accusation that Joe Biden sexually assaulted her a few decades ago. If the MRC took sexual assault allegations seriously, it would have denigrated E. Jean Carroll for making one against Donald Trump. Nevertheless, the MRC persists in exploiting Reade for its political agenda.
Duncan Schroeder huffed on July 27 that a CNN guest "praised Joe Biden for his to plan to choose a woman as his running mate without mentioning that Biden has been credibly accused of sexual assault," adding that if the guesdt "was not a Democratic shill, he would have mentioned that Joe Biden was credibly accused of sexual assault by Reade. But CNN does not actually care about combating sexism or holding all politicians accountable, it cares about propping up Democratic candidates." Schroeder's post appeared under the ironic headline "Silence is Violence" -- after all, the MRC hasn't mentioned Carroll's credible accusations against Trump since April.
On Aug. 12, the MRC's Scott Whitlock got an "exclusive interview" with Reade (that it also translated into Spanish), in which she "spoke out about the selection of Kamala Harris as his vice presidential running mate." The MRC apparently did not ask Reade about E. Jean Carroll's accusations against Trump, nor did they ask her about her history of manipulative and deceitful behavior.
The same day, Whitlock whined, "Just how long can HBO stand by the radical HBO host John Oliver?" citing as evidence of his "radical" behavior: "In May, he promised to cover the Tara Reade sexual assault allegations against Joe Biden. He lied." Whitlock threw a massive fit about this in June.
A couple days later, Whitlock complained that an interview of Kamala Harris on MSNBC "censored any mention of the Democrat previously saying she thought Tara Reade, who accused Joe Biden of sexual assault, should be heard."
We should probably mention again that Whitlock and the rest of his MRC buddies have censored any mention of E. Jean Carroll for months.
Perpetual rage-bot Nicholas Fondacaro took things in a weird direction in an Aug. 17 post:
Democratic Party mouthpiece and CBS political correspondent Ed O'Keefe was so nervous about the enthusiasm gap between former Vice President Joe Biden and President Trump, that he spent part of his Monday segment on CBS Evening Newsboasting about Biden (an accused sexual assaulter) paling around with rapper Cardi B, who has admitted to drugging and robbing men (with accusations of rape).

Of course, this happened while the liberal media were ignoring the demands of Biden sexual assault accuser Tara Reade, who wanted the press to grill his running mate, Sen. Kamala Harris (D-CA) on whether or not she believed his accusers.
Whitlock returned in an Aug. 25 post to grouse that "Last week during the Democratic National Convention, journalists and media outlets did their best to bury the 1993 sexual assault accusations against Joe Biden," going on to tout how Reade "told Fox News she would be willing to speak at the Republican convention if asked."
Whitlock's obsession with Oliver continued in an Aug. 30 post, in which he whined, "Oliver is the same Democratic hack who promised to cover Tara Reade and then hasn't. Basically, he's just a HBO shill for the DNC." And Whitlock is a shill for the Trump campaign.
Once more, let's remember that Whitlock and the MRC hasn't written a thing about E. Jean Carroll since April. That shows you just how empty its obsession with Reade is.
Posted by Terry K. at 9:42 PM EDT