MRC Kaepernick Derangement Syndrome
Topic: Media Research Center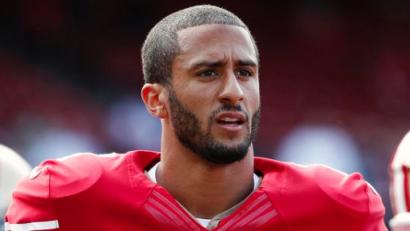 If there's a Media Research Center trigger-warning relationship to rival Curtis Houck and Jim Acosta, it's they mysterious Jay Maxson and Colin Kaepernick. Let's review just how much Maxson has been triggered by Kaepernick over the past couple months, shall we?
On Feb. 3, Maxson huffed that Kaepernick got a mention at Super Bowl-related activities: "The most controversial football player in the world hasn't played in the NFL in two years, but Colin Kaepernick was figuratively 'at"' the Super Bowl." He ranted further by calling Kaepernick "the social media-sniping hater of cops, former National Anthem kneeler, lover of communist Cuba and American freedom-denier."
When a newspaper columnist asked that an NFL team sign Kaepernick, Maxson justified blackballing him by declaring that "no owner has an obligation to employ any athlete who has crossed a line of incivility" (even as NFL teams continue to employ players accused of domestic violence), declaring that "The cop-hating, anti-American, Cuba-loving Kaepernick would be a detriment to the reputation of the NFL or any of its teams." Maxson didn't explain exactly what was "incivil" about kneeling during the National Anthem.
When Kaepernick and another player who protested during the National Anthem settled their collusion grievance against the NFL, Maxson was unsurprisingly disappointed, whining that "Media sentiment has overwhelming [sic] favored the social justice warriors and accused the NFL of blackballing them." Maxson was also unhappy that Kaepernick was seen as the winner, getting mad at a sportswriter who was "suggesting the two players who infuriated Americans for kneeling during the Star Spangled Banner may have had a case." At no point does Maxson offer any evidence that NFL was the winner. Maxson finally found a right-wing sportswriter who hates Kaepernick as much as he does, touting how he attacked Kaepernick "for essentially spoiling the pro football experience for so many Americans."
On March 13, Maxson got huffy at the idea that Kaepernick was expressing free speech through his protest, insisting that anyone who agreed with that was "incorrectly assuming employees at private companies have free speech rights."
In a March 19 post, Maxson was angry that Kaepernick wasn't being seen as hateful, but, rather, "the fans who disagreed with his disgusting behavior during the 2016 season when he first sat, then knelt during the pre-game playing of the national anthem." When a sportswriter suggested that allowing Kaepernick to play would give haters their due because it would give them a legitimate excuse to hate him if he fails to deliver Hall of Fame numbers, Maxson huffed: With Kaepernick's compliant media cheerleaders, it's never a matter of disrespecting veterans and the flag, hurting the NFL's business (remember all the NFL's negatives from the 2017 season when the rebellion Kaepernick started torched TV and favorability ratings?). Precious few among the media care about those negatives!" Maxson also insisted that Kaepernick hadn't been punished enough for expressing his opinion:
It would provide an opening for Kaepernick all right. He would be playing again without being held accountable for his protests, which turned many a long-time fan away from the NFL. No apology. No mea culpa. Most likely more radical, Black Lives Matter-type activism, though.
Maxson concluded by huffing: "Just put Kaepernick back in an NFL lineup and watch the media gush over him while more fans write off the NFL." It would give Maxson more opportunities to be triggered by the mere presence of Kaepernick as well -- not that Maxson was going to concede that.
Posted by Terry K. at 2:10 PM EDT
Updated: Monday, April 1, 2019 2:13 PM EDT