CNS Covers Trump-Ukraine Scandal With Its Usual Bias
Topic: CNSNews.com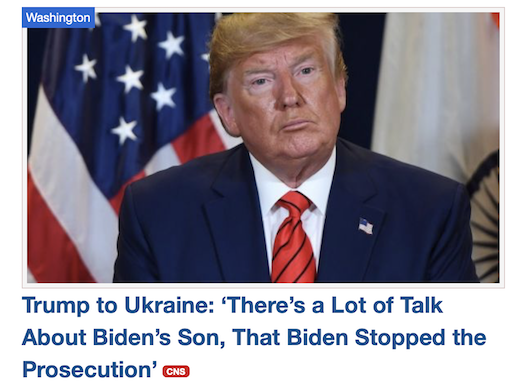 CNSNews.com is treating the scandal over President Trump's phone call to the Ukranian president exactly the way you'd expect: with a heavy pro-Trump bias, at least based on its first week of coverage.
Susan Jones' first article on the whistleblower complaint that led to the controversy served up her usual pro-Trump/anti-media framing, complaining that the report "provides new fodder for determined anti-Trump investigators" and that "liberal media outlets, including the Post, have seized on the report." She also complained that Democratic Rep. Adam Schiff, head of the House Intelligence committee, is "a dedicated Trump foe." That was followed by more Jones articles touting Trump's dismissal of the complaint as "fake news," accacking the whistleblower and mocking Schiff, with no additional editorial commentary.
Jones also knew where to direct the story for maximum pro-Trump sycophancy: at Joe Biden. One article was devoted to uncritically repeating Rudy Guiliani's rants falsely claiming that Biden, as vice president, withheld federal money to Ukraine until an investigator who was looking into dealings in the country involving Biden's son Hunter was fired. (In fact, U.S. and European officials wanted the investigator fired because he wasn't investigating corruption in the country, which Jones didn't tell her readers.)
In a follow-up article, Jones bashed Schiff for "getting ahead of the actual facts" while making no editorial comments when quoting Treasury Secretary Steve Mnuchin for pointing out that conversations between world leaders are supposed to be confidential. Later, Jones lamented that the controversy has "has stoked Democrat [sic] cries for impeachment.By contrast, Jones made no judgments against Republicans Devin Nunes and Lindsey Graham in reporting their comments backing Trump and criticizing Biden. She also touted Republicans Jim Jordan (a favorite of CNS' parent, the Media Research Center) and Mark Meadows bashing the controversy, huffing that it originated with "a second-hand whistleblower complaint."
That kind of blatant bias from Jones continued. She whined in a Sept. 24 article:
We demand more documents!

The Democrat [sic] chairmen of three House committees are "demanding that Secretary of State Mike Pompeo immediately begin producing documents the State Department has been withholding in response to a letter the Chairmen sent two weeks ago relating to efforts by the President and his personal lawyer, Rudy Giuliani, to solicit the help of a foreign power to interfere in the 2020 Presidential Election."

[...]

Meanwhile, House Democrats are meeting at 4 p.m. to discuss possible impeachment proceedings against President Trump, this time for something he supposedly said in phone call with the newly elected Ukraine president.

Never mind that Congress does not know details about the complaint filed by an intelligence community whistleblower. And press reports now say the whistleblower's complaint is based on what he heard from someone else.
The same day, Jones uncritically repeated more dubious assertions about the Bidens from Trump, without snarkiness or additional editorial comment, though she repeated the false claim that "Joe Biden in 2016 forced the Ukraine government to fire a prosecutor who was looking into corruption."
On Sept. 25, Jones shockingly did not add snark to two articles featuring Senate Minority Leader Chuck Schumer talking about an impeachment inquiry. But then, she also uncritically presented statements from Lindsey Graham and Trump attorney Jay Sekulow, even as Sekulow ranted about "former Vice President Joe Biden's quid pro quo with the Ukraine government" (which, in that framing, ignores the facts).
CNS' Melanie Arter, meanwhile, was (as usual) stuck in stenography mode writing stuff with headlines like "Trump to Ukraine: 'There's a Lot of Talk About Biden's Son, That Biden Stopped the Prosecution'."
Posted by Terry K. at 4:11 PM EDT
Updated: Sunday, October 6, 2019 8:19 PM EDT