CNS Writes Around Criticism of Rand Paul
Topic: CNSNews.com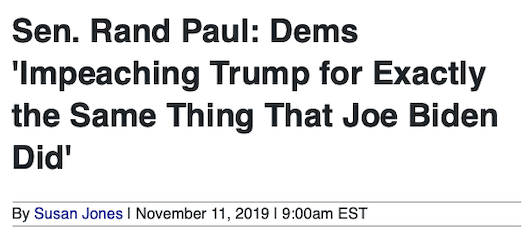 In a Nov. 11 CNSNews.com article, Susan Jones touted how Republican Sen. Rand Paul, on NBC's "Meet the Press," "said it's not fair to impeach President Trump for doing "the same thing that Joe Biden did" -- threatening aid to Ukraine if some kind of corruption was not investigated":
Chuck Todd, the host of NBC's "Meet the Press," said he wanted to "set aside what Vice President Biden did." He asked Paul if it's "appropriate" for President Trump to withhold U.S. military aid until the Ukrainians agreed to publicly announce corruption investigations involving the 2016 U.S. election and the Bidens:

"I think there is a real question whether you think the president should specifically go after one person, but there is a real question whether Joe Biden should have gone after one prosecutor. It's exactly the same scenario," Paul responded.

"There is a real question about that. But if it were me, I wouldn't give them the aid, because we don't have the money. We have to borrow the money from China to send it to Ukraine, so I'm against the aid. And I think it's a mistake to do the aid, so I wouldn't have played any games. But I think the American people think it's unfair to treat Trump under one standard and Joe Biden under a different standard."
An hour later, Jones wrote another article based on the same edition of "Meet the Press," this time focusing on Democratic Rep. Jim Himes saying that testimony in the impeachment hearings would feature "immensely patriotic, beautifully articulate people telling the story of a president who -- let's forget quid pro quo, quid pro quo is one of these things to muddy the works -- who extorted a vulnerable country by holding up military aid"and arguing that Trump "acted criminally and extorted in a way a mob boss would extort somebody, a vulnerable foreign country."
Jones added: "Himes argued that "what the president did was wrong and impeachable," nothing at all like Joe Biden holding up a loan guarantee until Ukraine fired the prosecutor-general; and nothing at all like Hillary Clinton using foreigners to do opposition research on Donald Trump during the 2016 campaign."
Jones did not, however, write an article on what happened between those two segments: Himes destroyed Paul's argument that Biden acted no different that Trump is alleged to have done, specifically articulating why that's the case in a way that Jones' one-paragraph summary glossed over, and criticized Todd for not pointing out that fact:
Chuck, if you'll, if you'll grant me one second here, my head is only now decombusting from the exchange you had with Rand Paul. I've spent 11 years in public service defending the press, and when Senator Rand Paul comes on and says that what Donald Trump did -- and the transcript is there -- extorting a foreign government for his personal political gain, and that's exactly the same thing as Joe Biden, "Exactly the same thing," is what he said [...] When Joe Biden is acting in consistency with American foreign policy and back then we had a whole list of things that had to be done and this was American foreign policy, it was European Union policy, it was IMF policy that this prosecutor needed to go. When Rand Paul says that that's exactly the same thing as the president of the United States saying, "You need to find dirt on my political opponent," and with all due respect, Chuck, when you say, "Well, do two wrongs make a right?" Let's be very clear. The president of the United States demanding, extorting a vulnerable country to do his political bidding, to go after his opponent, has nothing to do with Joe Biden executing the foreign policy of the United States or Hillary Clinton, who is a private citizen, doing opposition research on her, on her presidential opponent. Those are radically different things. What the President did is wrong and impeachable.
If Jones was a fair and balanced reporter, she would have provided this information to her readers in the same manner that she gave Paul an uncritical platform to spin his bogus claims. But, of course, we know she's not.
Posted by Terry K. at 11:06 AM EST