Will WND Apologize For Attacking Omar's Claim That Trump Official Is A 'White Nationalist'? (No.)
Topic: WorldNetDaily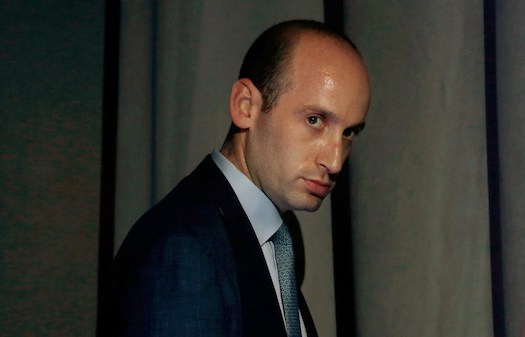 Back in April, WorldNetDaily's Joe Kovacs was quick to take offense at Rep. Ilhan Omar's claim that Trump White House adviser Stephen Miller is a "white nationalist," complaining that "the Minnesota Democrat added to her personal tempest" by doing so, then filling out his article with mostly anonymous attacks on her copied from social media:
"He's Jewish," responded the Daily Caller in a tweet of its own in response to Omar.

[...]

Social-media users are verbally scorching the congresswoman online, with remarks including:
"How do you know that that is the case? I highly doubt it. Please stop the name calling. U do not like it when people call you antisemitic or extreme or link you to stoning, genital mutilation etc. so why do it to some one else."
"A Jewish white nationalist? Do those exist? I am confused?"

"Yes, and she hates the Jews. She's substituting 'white nationalist' for 'Jew' here ... hmmm."
[...]
"She's right behind AOC in skull density."
WND columnist Lowell Ponte was similarly offended, citing her having "attacked Mr. Trump's White House adviser Stephen Miller, who is Jewish, as a "white nationalist" as an example of her "extremist words" that have "elicited rage.," going on to rant that "Rep. Omar makes no secret of her hatred of the United States."
But it turns out that Omar appears to be right. Earlier this month, the Southern Poverty Law Center reported on leaked emails showing that Miller "promoted white nationalist literature, pushed racist immigration stories and obsessed over the loss of Confederate symbols after Dylann Roof's murderous rampage," and in those emails the group "was unable to find any examples of Miller writing sympathetically or even in neutral tones about any person who is nonwhite or foreign-born."
If you thought WND would be moved to apologize to Omar for falsely attacking her over a claim that has since been proven correct, you don't know WND. But WND is editorially decimated enough that its response has been farmed out to other outlets, mainly to the right-wing clickbait site Western Journal, into which WND is apparently in the process of being slowly subsumed into.
A Nov. 16 Western Journal article by Jack Davis at WND lamented that "Democratic Rep. Alexandria Ocasio-Cortez of New York is demanding the resignation of White House aide Stephen Miller on the strength of a report that claims Miller is a "white nationalist" based on emails from 2015 and 2016," repeating a tweet by Omar stating that "As I said earlier this year: Stephen Miller is a white nationalist. And now we have the emails to prove it" but not otherwise acknowledging previous WND attacks on her over the statement. David uncritically repeated White House press secretary Stephanie Grisham's attack line that the SPLC "an utterly-discredited, long-debunked far-left smear organization" but did not deny the accuracy of the emails.
After another SPLC report came out detailing how Miller "frequently gave editorial instructions to Breitbart News," WND published a harsher attack by Davis on those criticizing Miller over his white nationalist sympathies:
After last week's shrill calls for the removal of White House aide Stephen Miller accomplished nothing, Hillary Clinton tried to step up the pressure on Miller on Tuesday.

"Every day Stephen Miller remains in the White House is an emergency," Clinton tweeted, citing a letter from the Leadership Conference on Civil and Human Rights that demanded Miller's removal.

[...]

In its reporting on the leaked emails published by the SPLC, NBC sought to portray Miller as having "more editorial influence over the right-wing news website Breitbart during the 2016 presidential campaign than previously known and attempted to push articles attacking then-presidential candidate Sen. Marco Rubio, R-Fla."

NBC did publish a Breitbart statement in response that noted it is "not exactly a newsflash that political staffers pitch stories to journalists — sometimes those pitches are successful, sometimes not."

Hogan Gidley, a spokesman for the White House said that attacks on Miller reflect anti-Semitism.

Miller is Jewish.
Again, Davis did not dispute the accuracy of the supporting emails.
WND also published a syndicated column by white nationalist-leaning Michelle Malkin complaining: "The New York Times, Washington Post, Newsweek, CNN, PBS and MSNBC have all regurgitated SPLC's release of leaked emails between senior White House adviser Stephen Miller and a former editor for the conservative Breitbart website. Miller, who is Jewish, has been attacked repeatedly as a "white nationalist" for recommending immigration restrictionist books and websites that the powers that be don't want anyone to read. Miller's frank discussions of 'demographic Armageddon' wrought by mass, uncontrolled migration have been deemed beyond the pale."
WND has tried to defend Miller against the now-proven-accurate white nationalist allegation before. A February 2017 article by Paul Bremmer complained that "the left" was claiming Miller was "closely associated with white nationalists,"and an anonymously written April 2017 article repeated the claim. Both articles were in service of promoting the WND-published book "No Campus for White Men" by Scott Greer -- who, it was later revealed, wrote white nationalist and anti-Semitic articles under a pseudonym for the white supremacist Radix Journal.
Posted by Terry K. at 12:04 AM EST
Updated: Monday, November 25, 2019 12:08 AM EST